Our Heritage
Heritage Nissan - Canberra Region was officially founded in 2020 by a local group of R31 Skyline owners. Previously we would loosely hold gatherings and meet at shows under the "ACT R31 Owners" Facebook group, and even before that under the R31Skylineclub.com banner. With our cars being of a suitable age, it was put forward that we should establish a formal car club, with the goals of joining the Concessional Registration Scheme (CRS), presenting our cars at shows as a formal club, hosting our own events, and selling merchandise for our members.

I'm not sure the year of this one!
As the name suggests, our club is for owners of Nissan/Datsun vehicles or vehicles powered by a Nissan/Datsun engine. There is no requirement on the age of the car, so whether its a classic Datsun 240Z, an R31 Skyline, a Nismo Juke, or VL Commodore, if you're passionate about Nissans, we'd love to have you! We also offer an Associate Membership for people that don't own a Nissan (maybe you are in the market, or you are between cars).

Old or new, everyone's welcome!
In 2020, we made the leap of faith and established a club. We formed a Committee, and created a Rules and Constitution document. We then started accepting Full and Associate financial members to the club, and our numbers quickly grew. We have since then continued to achieve our early visions for the club, affiliating with both the Council of ACT Motor Clubs and Motorsport Australia, Incorporating the club, and setting up our online account and Square POS.

Heritage Nissan - Canberra Region AGM Feb 2022
We began hosting monthly meetings, a chance for club members to enjoy a social dinner and catch up, and then formally discuss club matters. Our meetings are well attended and our members are always enthusiastic to catch up on each others projects and other news.
We also hosted our first event, the 7th Skyline day, which involved a meetup at Lanyon Marketplace, cruising out to Honeysuckle Tracking Station for a show and shine and BBQ. We received an amazing amount of attendance and interest at our first event, and that encouraged us to host other successful events such as our Scavenger Hunt and our second 7th Skyline Day at the Australian Spanish Club in Narrabundah, which built on the success of the previous event to be the biggest R31 show in Canberra. We are also a regular attendee of the Council of ACT Motor Clubs events, Shannons Wheels and Marques in the Park.

7th Skyline Day 2021
A club that motorsports together stays together, and our club is heavily involved in local motorsport. From Drag to Drift, Hillclimb to Motorkhana, Powercruise to Summernats, our members are always having fun, and some of us are pretty quick too! Our Motorsport Australia Sporting affiliation means that our members can apply for Motorsport Australia licenses to compete in their preferred events.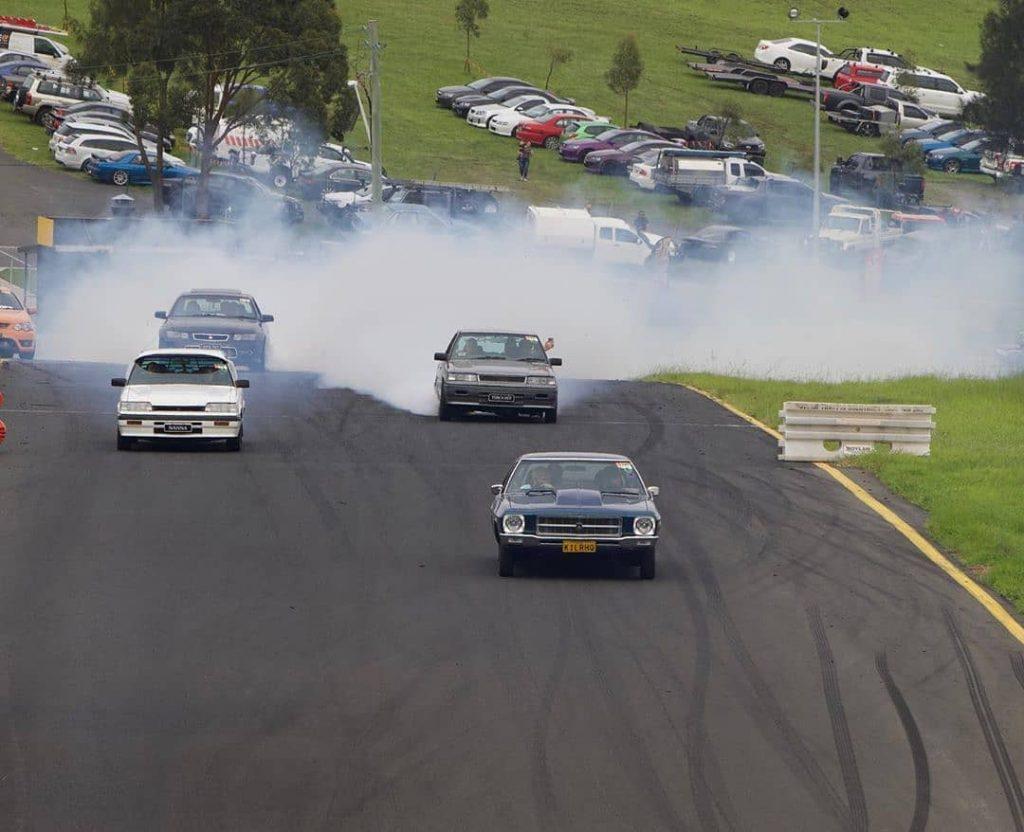 Our members having fun at Powercriuse!
As a Council of ACT Motor Clubs affiliated club, our members have access to the CRS of both ACT and NSW, which is a fantastic initiative aimed at keeping old cars on the road.
Members of the public are always encouraged to attend our meetings and events, meet our members and see what our club is all about.