31 Days of R31
Heritage Nissan Canberra Region would like to introduce 31 Days of R31 as an online event to lead us into R31 Skyline Day that is flagged to be held at the end of July 2023. The cars here are all R31 Skyline Club and HNCR members rides over time and some will be available for a up close and in-person walk around this july. 
Day 31: Skyline Day - Highlights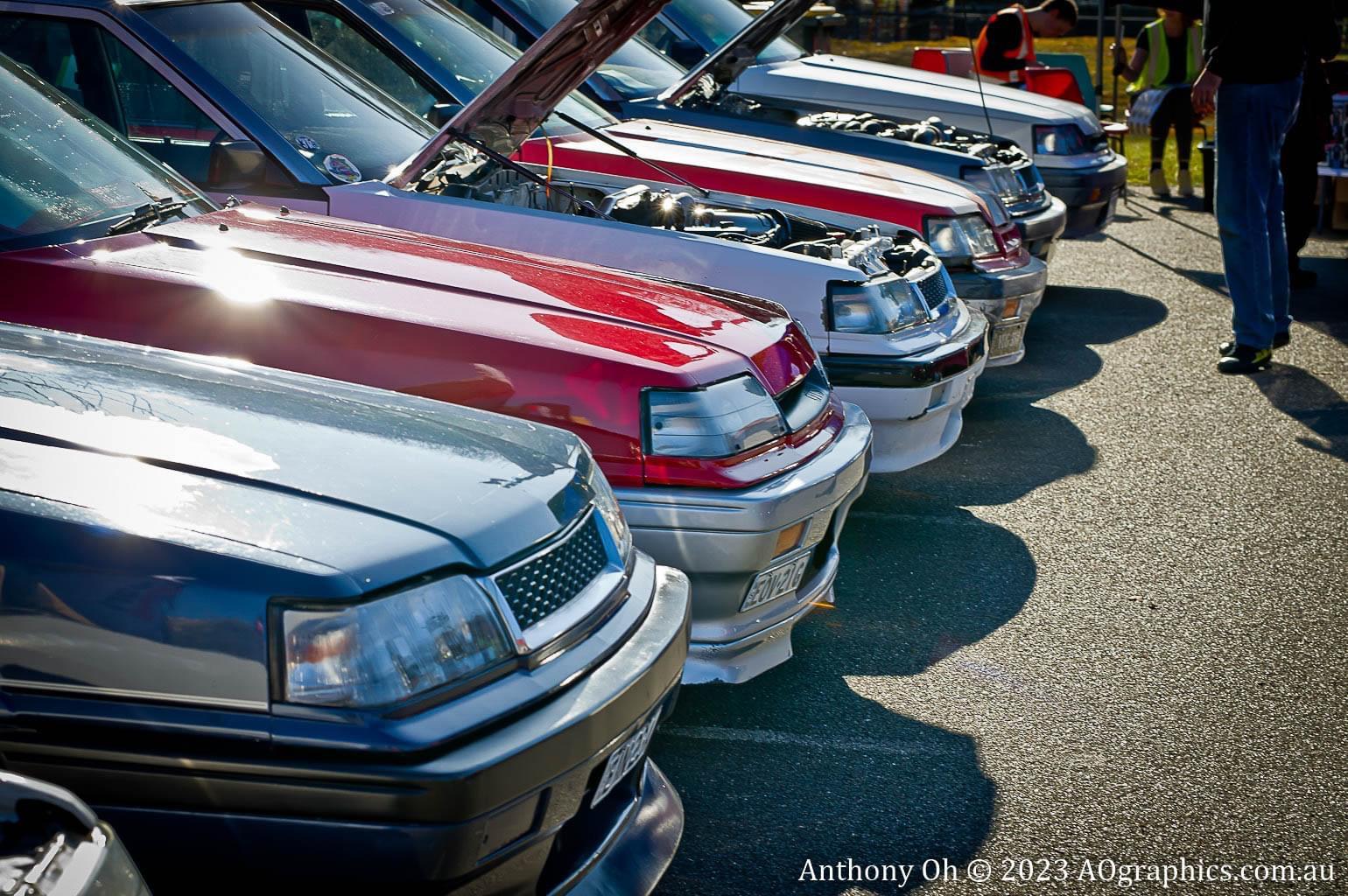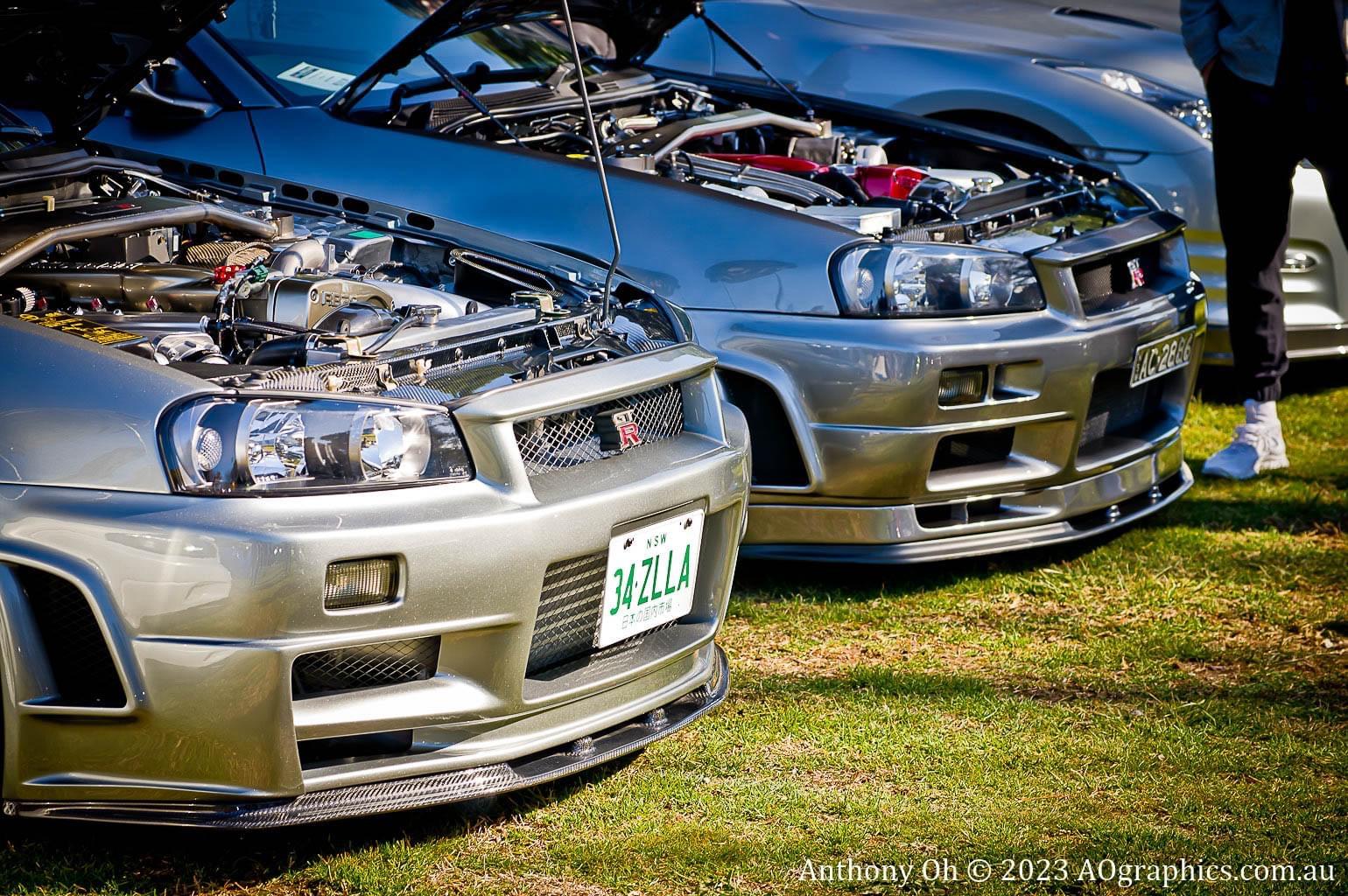 The next generation of R31 Enthusiasts is primed ready to go. Check out this young bloke what a legend!!! 
Highlights
What a day and it was, a fantastic success for everyone involved in the HNCR community. We saw such a variety of cars as always, from the 60's that are meticulously restored through to the insanly modified monsters like Mighty Boy. This year like all others the HNCR community brought some quality machines out for a cruise and some sunshine. 
We would like to touch breifly on the community that surrounds HNCR club. This year we welcomed interstate travelers from Melbourne, Sydney, Wollongong and Goulburn. Certainly 3 of 4 examples were driven by nothing more than common interest in the R31 skyline and hanging out with Family/mates, doing a road trip to the capital. As a club we are proud to host an event that brings family and friends together and your presence has been an inspiration.
Here is a few things that popped out:
Turbo LS R31 Skylines everywhere
RB25 powered HR Ute 
Barra powered R34 
The biggest tow rig ever seen 
8sec R31 Skyline
GrumbleBee the time attack machine
Finely restored Datsun's and others with silly amounts of boost
Netcomm Racecar 
R31 GTS2
Fully Original R31's (Immaculate)
So many more to mention... 
Photo's
HNCR has put togeher a photo gallery here. Feel free to get in touch with me websitecoordinator@hncr.org.au and we can add your pics to the gallery too. :-)
A photography company has reached out with some professional photos from the event that can be accessed here. I'd like to offer a big shout out to AO Graphics for getting some great pics of the show. :-)
Sponsor's
Out raffle for 2023 had prizes in excess of $3,500 that was all given away during the event and we spotted alot of smiles and happy winners. Congratulations once again to all raffle prize winners. :-)
Shannons
Supercheap Auto Tuggeranong
Autobarn Tuggeranong
Bursons Tuggeranong
Stay Tuned 
Diamond Tints
Jam IT Fabrication
Sykes Automotive
The Firepit Boys
James Westhorp (Personal Contribution)
Mondale Quizon (Personal Contribution)
NAPA Wollongong
HNCR (Motorkhanna)
The Spanish Club
Thank you
The HNCR committee and members would firstly like to thank the public because without your contribution of time and enthusiasm this event would not be viable. You are the heart of the event and what drives the HCNR committee and members to show up and put together the best event we can. 
To the sponsors of the event your finanical contribution's and presence is valued to ensure the success of our events. We look forward to welcoming you back next year and hope you gain some welcomed customers that are like minded and share the passion for cars like we do. 
The HCNR team that helped on the day with setup, show bags, entry collection, traffic control, parking, audio, merchadise, judging and all other tasks we would like to extend the biggest thankyou you made the show smooth sailing and enjoyable. The personal contribution of your time is greatly appreciated. 
Take it easy everyone and it would be great to see you at the next event. :-)
Day 30: Skyline Day - Show N Shine
Arrival time 

- Spectators/General Public = 10AM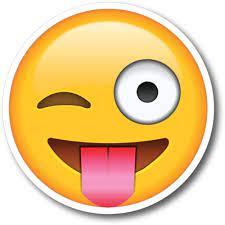 About
Traditionally on the 31st of July owners of the 7th generation Nissan skyline (the R31) would get together and share in their passion. Heritage Nissan Canberra Region run a cruise on this date in 2021 and extended the invite all car enthusiasts and not just to those with the boxy Nissan, much to the surprise of the club it was far bigger than anyone expected. Since then, the event has transformed into a Show N Shine and only continues to grow.
Skyline Day - Show & Shine
All car enthusiasts are welcome to display their cars via a gold coin donation to the club. Previous years have seen some wild rides and we are looking to seeing what new builds are hitting the streets. 
We have following displays:
R31 Display
HNCR Display
Stay Tuned Display
Shannons Display
Guest Display
Itinerary 
10am - General Public/Spectator arrivals
12pm - Entrant Judging
2pm - Award presentation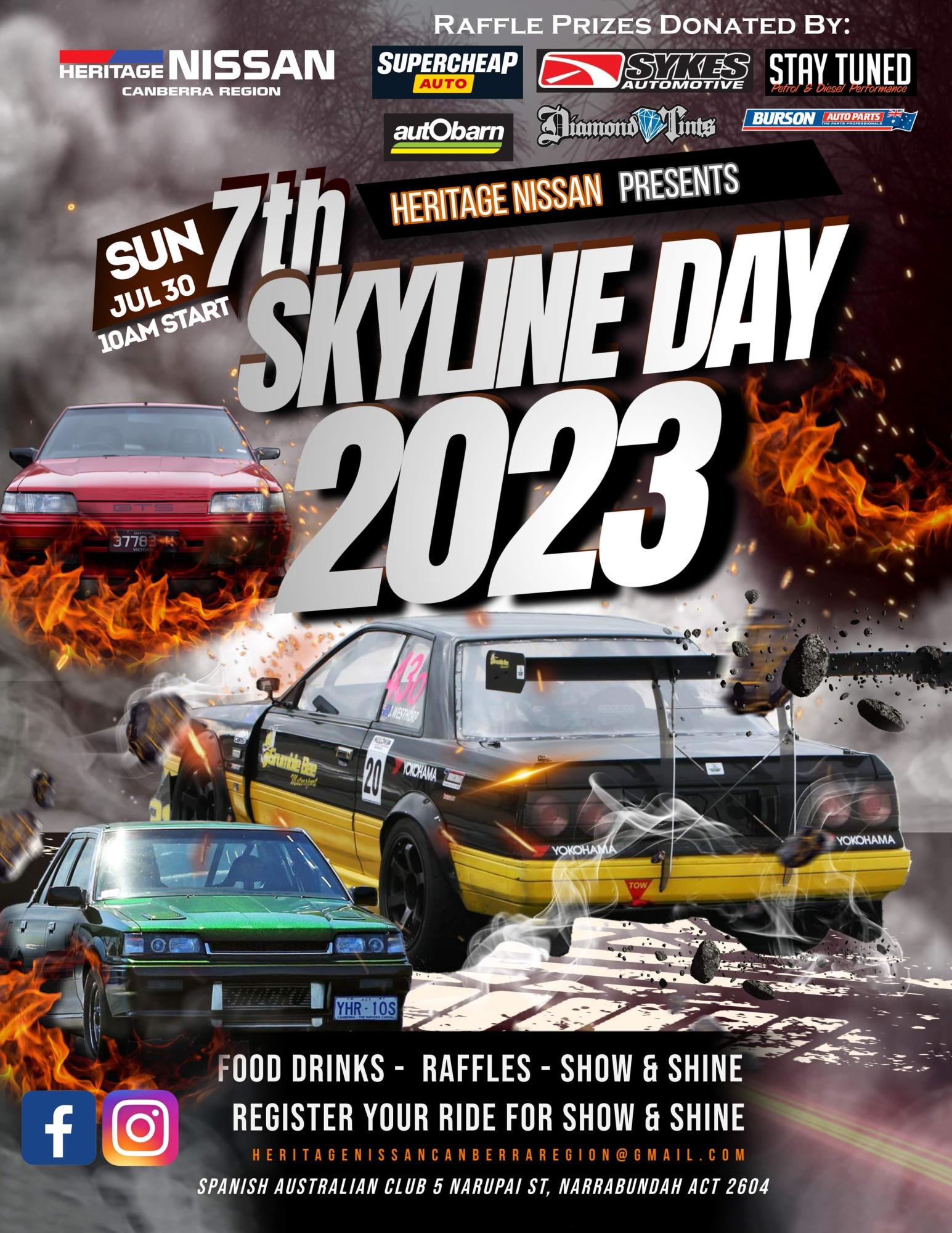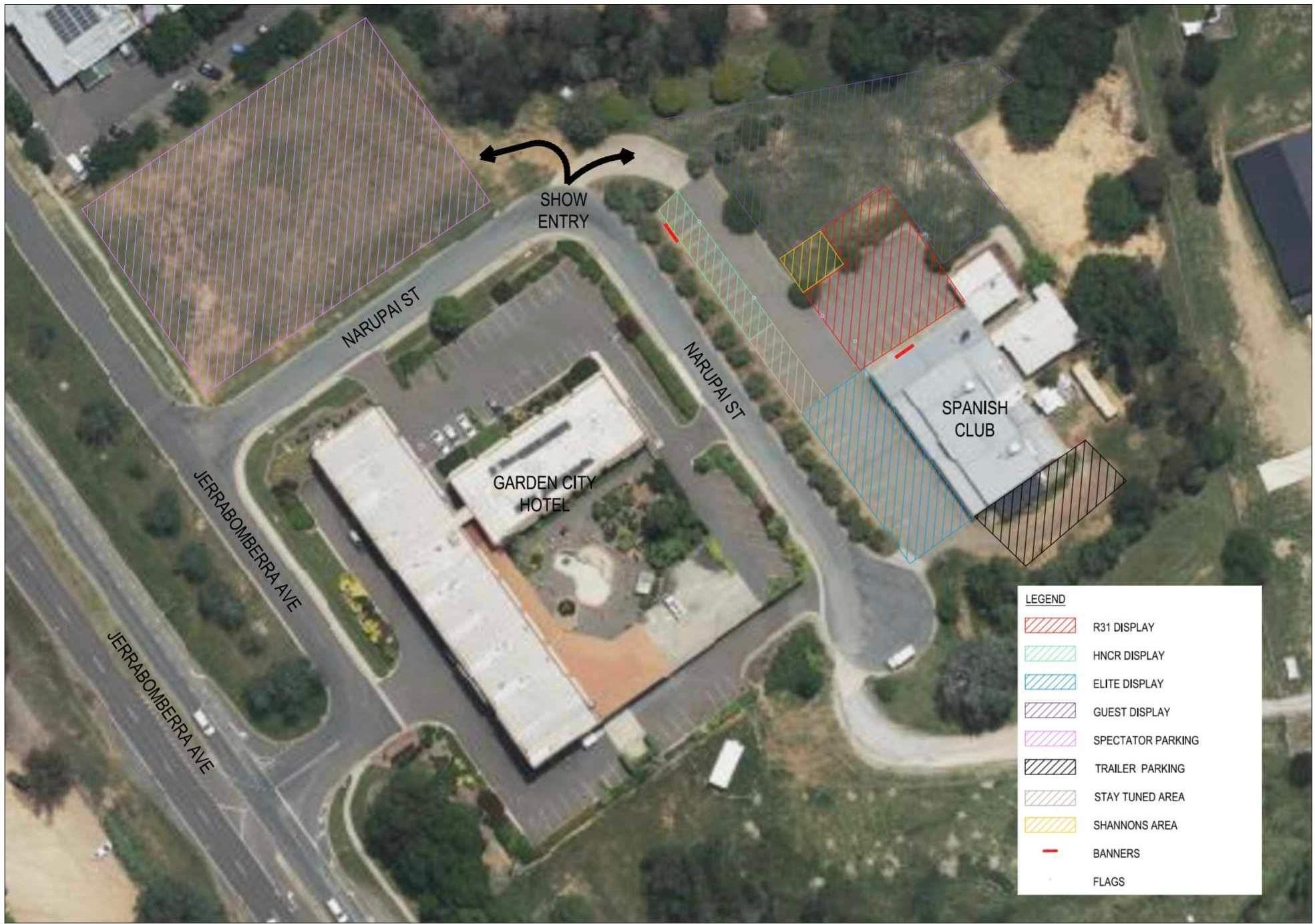 Early Birds: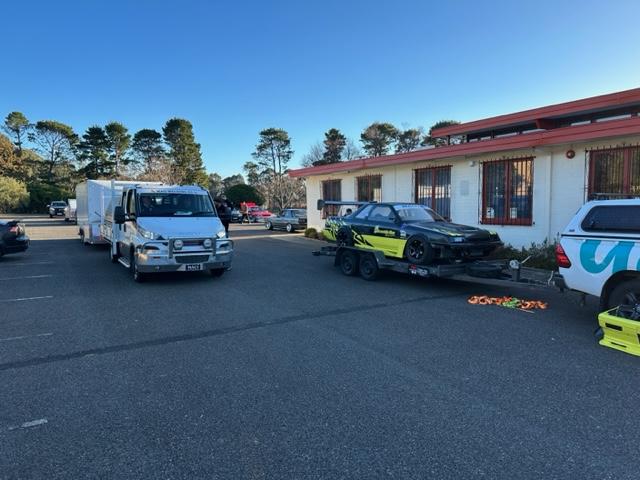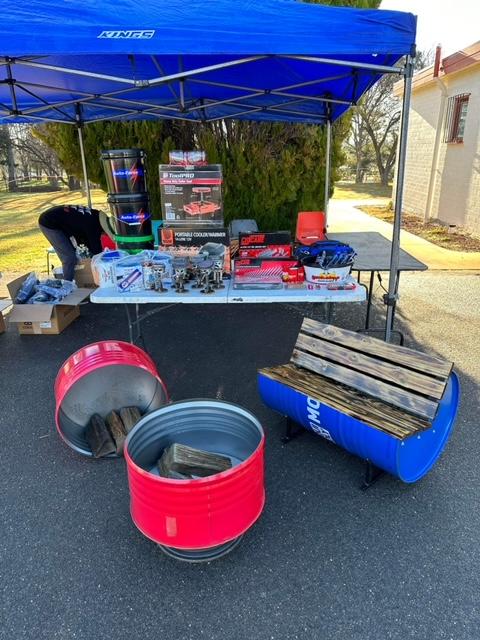 Show N Shine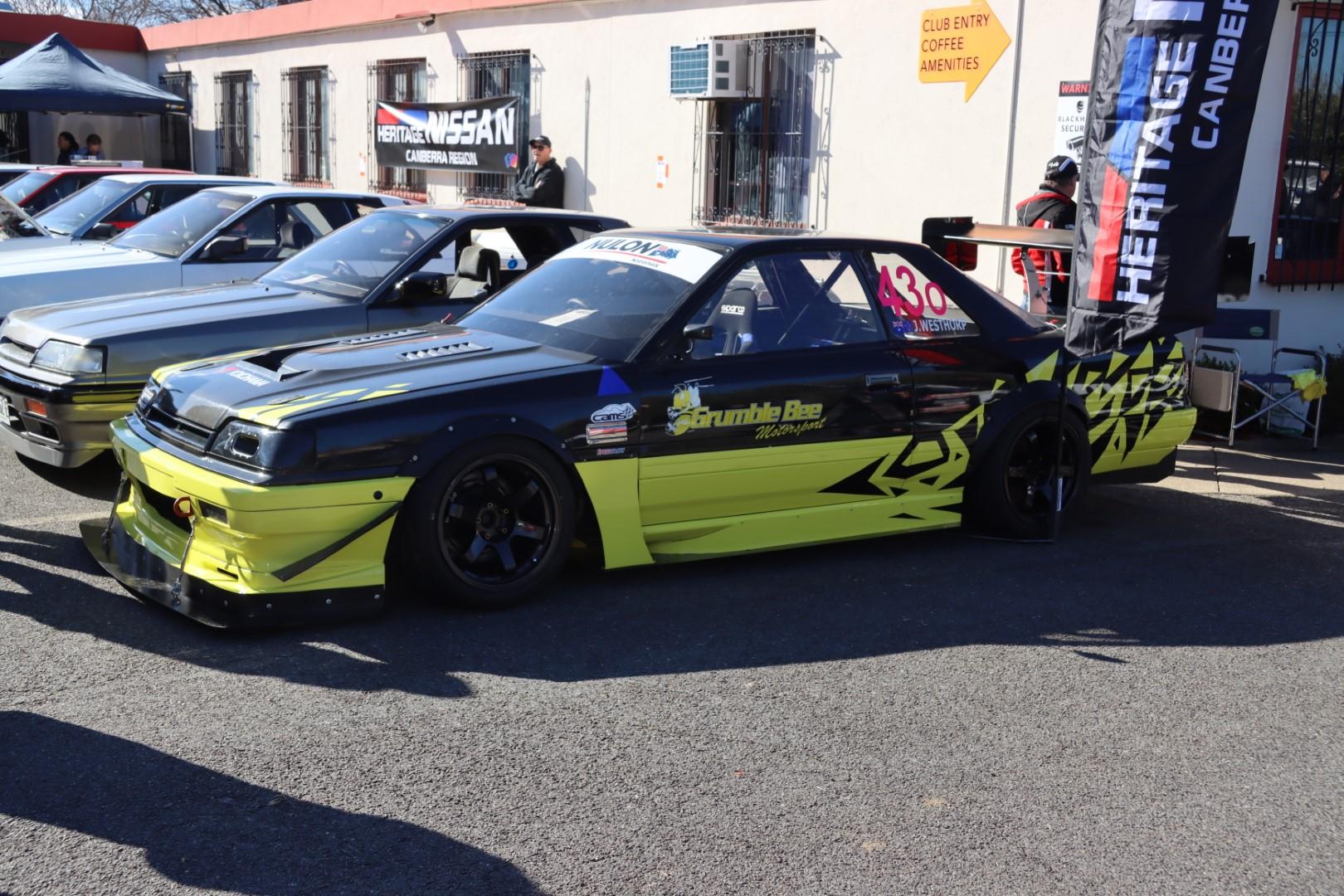 Trophy Winners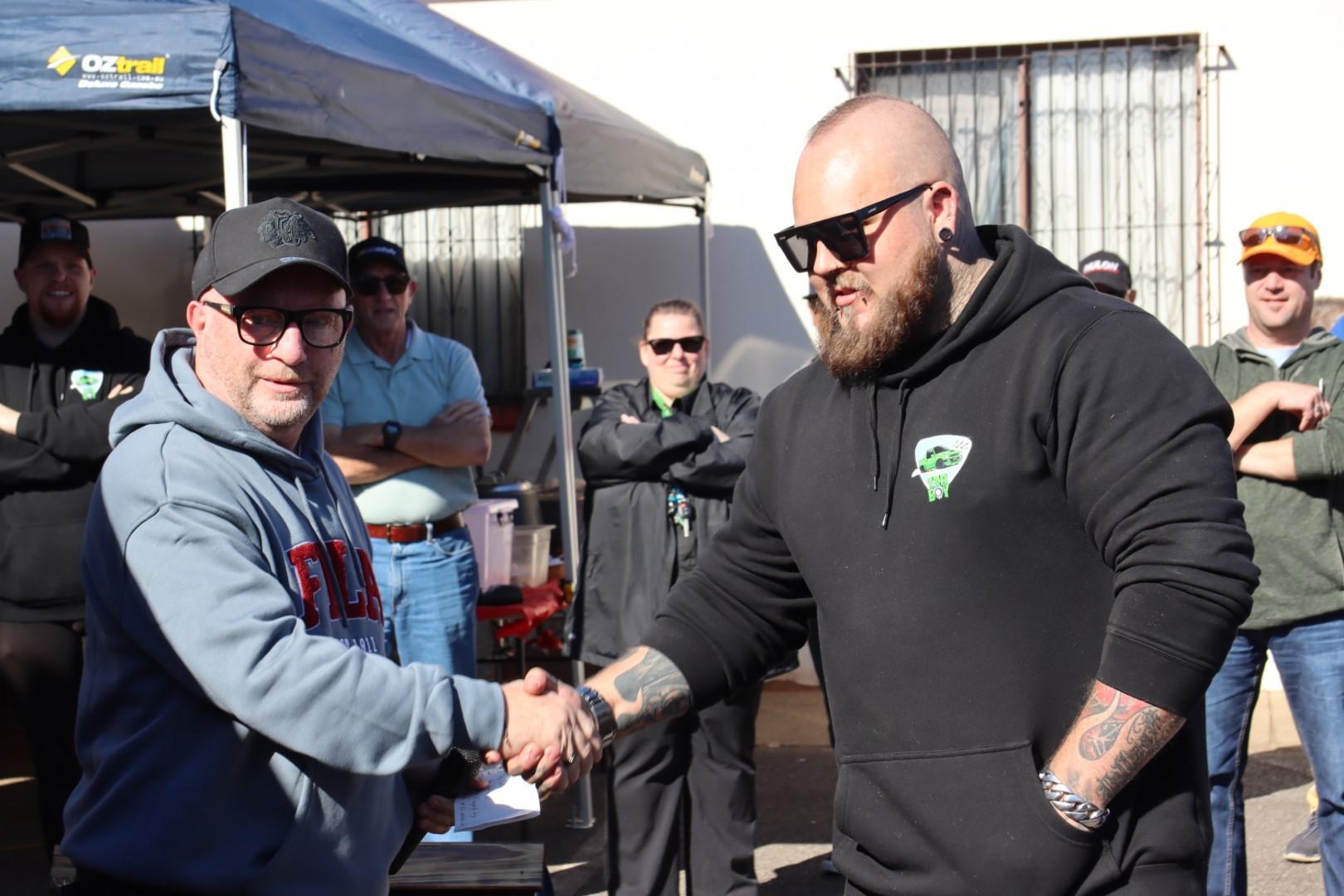 Top Japanese - #113 - Evo
Top Nissan - #145 - R34 GTR
Top Engine Bay - #50 - HR Sedan
Top Non-Japanses - #52 - HR Ute
Top Modified - #13 - Mighty Boy
Top Sleeper - #41 - R31 White
Top Datsun - Pending - ???
Top Paint - #112 - R31 (Sparkles) 
Best in Show (People's Choice) - #182 - R34 Barra
Day 29: Michael Finger
I got the R31 bug back in 1990 when my Dad bought an S1 TI as a family car. His friend bought an HR31 in the mid 90's and that inspired me to get my own. In the year 2000 I bought my first HR31 but I sold it in 2006 as I moved to Japan. After visiting R31House 4 or 5 times, including a trip to the R31House Wonder Festival driving one of Shibata's GTS-Rs I knew I needed to get back into one after moving back to Australia.
So, in 2016 I bought this 1987 GTS-X. At the time it had a silver top conversion, bigger intercooler, respray with H31House V5 front lip, GTS2 side skirts and rear bumper, with some BB5 16X8s. I've since added coil overs, BNR32 Sumitomo front brakes, GK-Tech braided flexi lines, Nistune, fuel pump, Turbosmart controller and an engine change after suspected main bearing failure. I've been trying to restore as much OEM parts such as airbox, switches and other interior parts.
I love this beast and the aim was to go on drives with mates and take it to competitions. I run in Hill Climbs, Khanacrosses and Sprints. I recently came 2nd in class in the Victorian Hill Climb Championship round at Rob Roy. This old Skyline is up against some much newer and more powerful cars so it shows just good an old 31 can be!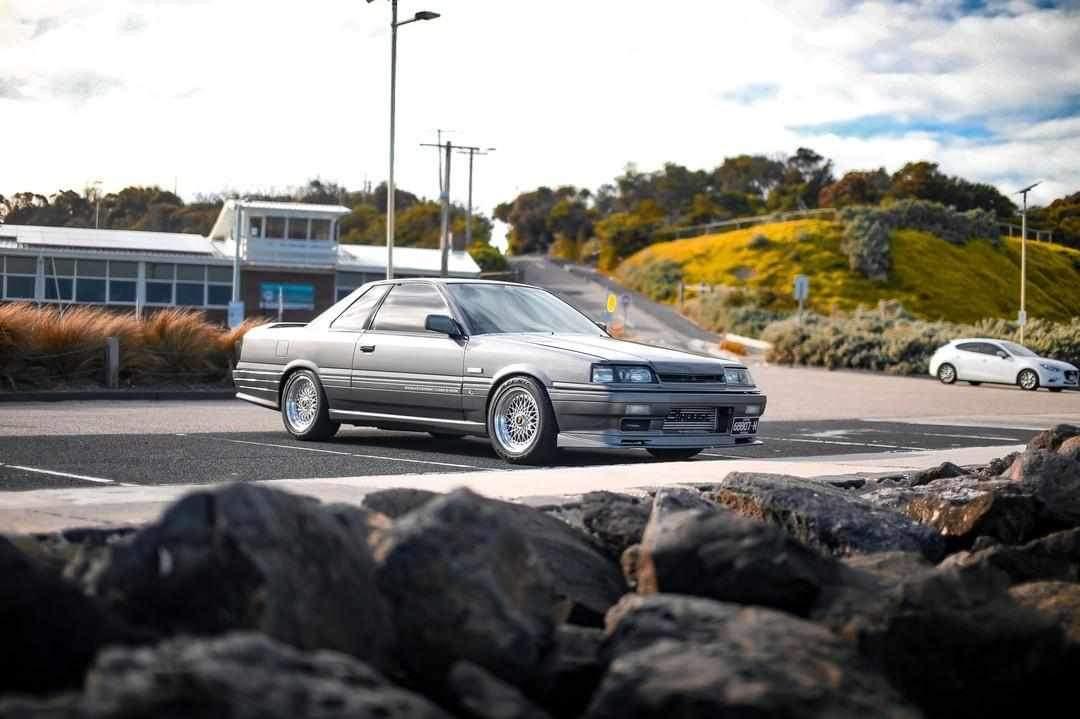 Day 28: Hazza Harrison
I purchased my first R31 at 14 and was hooked and naturally, you can never have enough of something and just prior to turning 19, I purchased my HR31 coupe. It's a 5spd manual still with RB20DE with goals to have it turbocharged by the end of this year. 
This particular HR is seriously a time capsule to the 80s. Everything is era correct from interior to exterior. The only modifications made is a NOS front bumper to replace a dog chewed bumper with two front bumper ducts from R31House fitted. Took around a year and a bit until the right auto spoiler and motors became available to purchase, colour matched everything and fitted.
Day 27: James Suman
This is my 1989 HR31 Skyline GTS-X. I bought the car back in 2009, for $2000. Back then it was my only car, and I did some track days at Wakefield Park and drove it everywhere. 
In 2012 I snapped the timing belt, so I rebuilt the engine with an R32 top end and we repainted the car. 
I don't drive it much anymore but getting behind the wheel always takes me back to my younger days!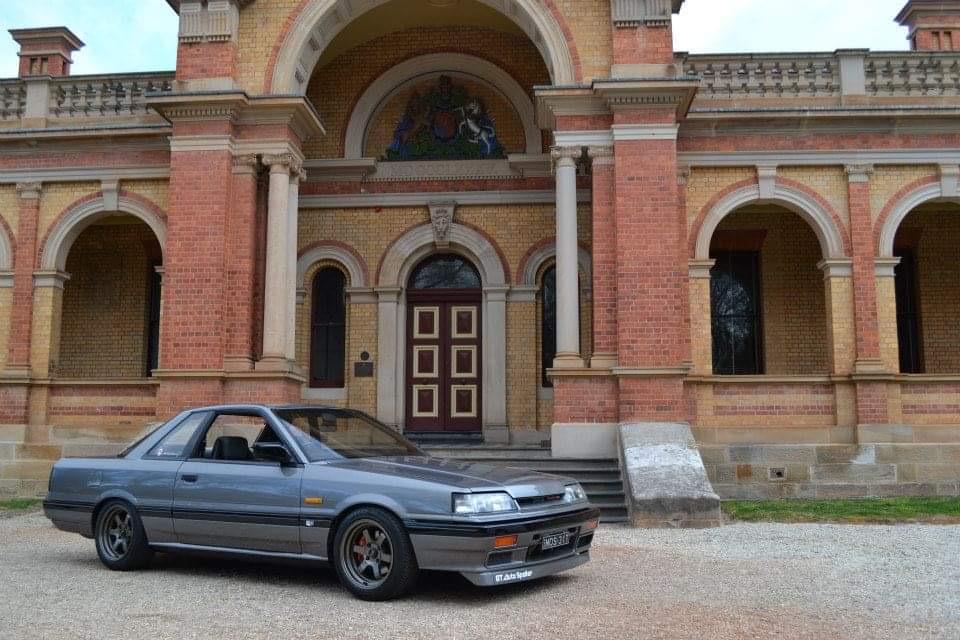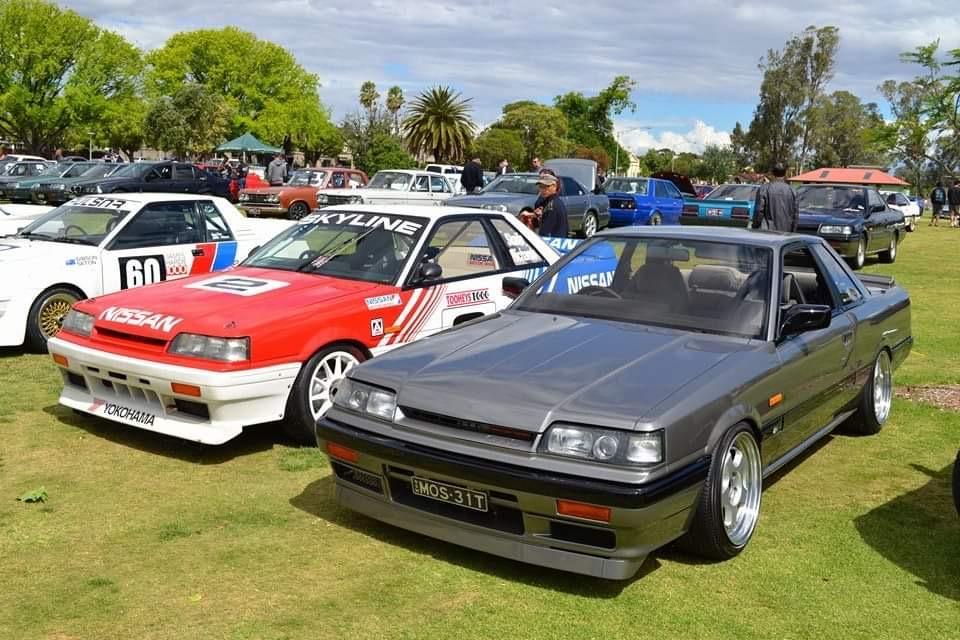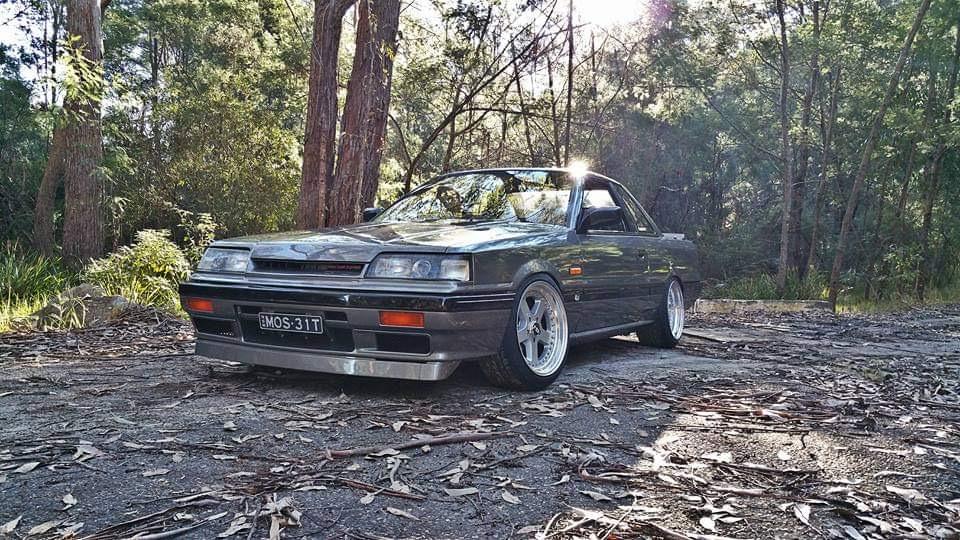 Day 26: Joel Aken
This 1988 GTS-X was originally owned by my Brother who bought it from a local classifieds ad as you did in the early 2000s. I still recall when I saw it for the first time, black paint at night with the stovetop top tail lights illuminated; a passenger ride then etching the soundtrack of the turbocharged straight 6 into my young impressionable brain for years to come. 
Years later a timing belt tensioner failure and resulting mechanical drama caused a long period of being hard-parked in our Parent's garage. It was in 2013 that I bought the car and began the process of rebuilding the engine and returning it back to the road. 
I actually used it for my daily-driver for a number of years while modifying and improving it. It received upgrades chasing more power like a turbocharger, front-mount, boost controller as well as some Angry Industry coilovers. These days it's been retired from daily duties and the focus has instead gone towards maintaining and preserving it; it is after all a 35 year old car now!
I've often thought about the (presumed) Guy who bought it in Japan in 1988 and what a wildly advanced car it would have been at the time, with its 4 wheel steering, electronic adjustable suspension and active-aero front spoiler. He was probably a salaryman in the boom-time 80s Japan who just wanted to impress girls with his "date car" though! 
In my ownership It's been a catalyst for meeting and making friends with lots of like minded enthusiasts, and has served beautifully at many track days and other motorsport events.
Future plans will be to keep restoring and enjoying it. It's the coolest time-capsule 1980s souvenir you could ask for, and for that reason I'd never sell it!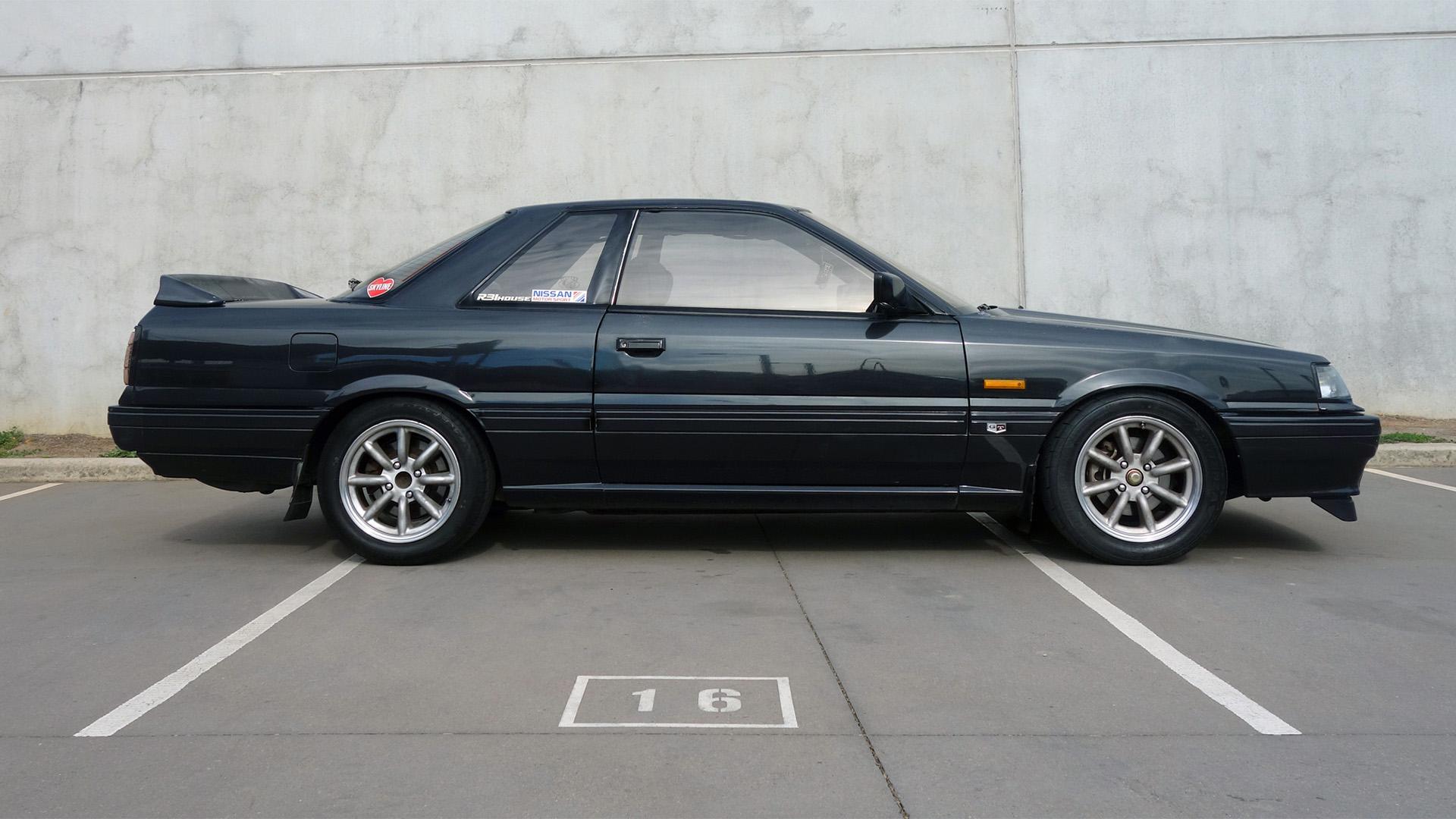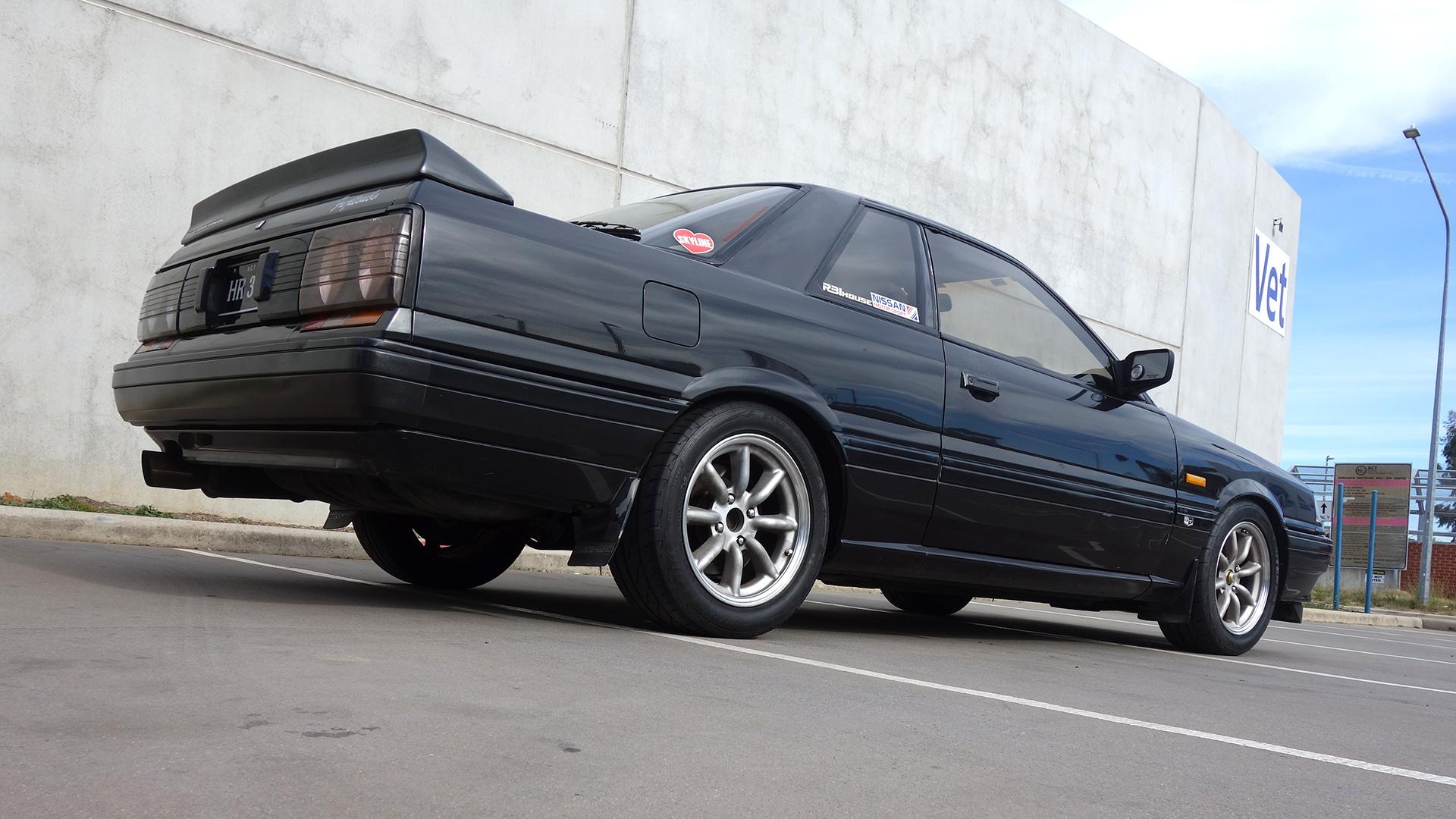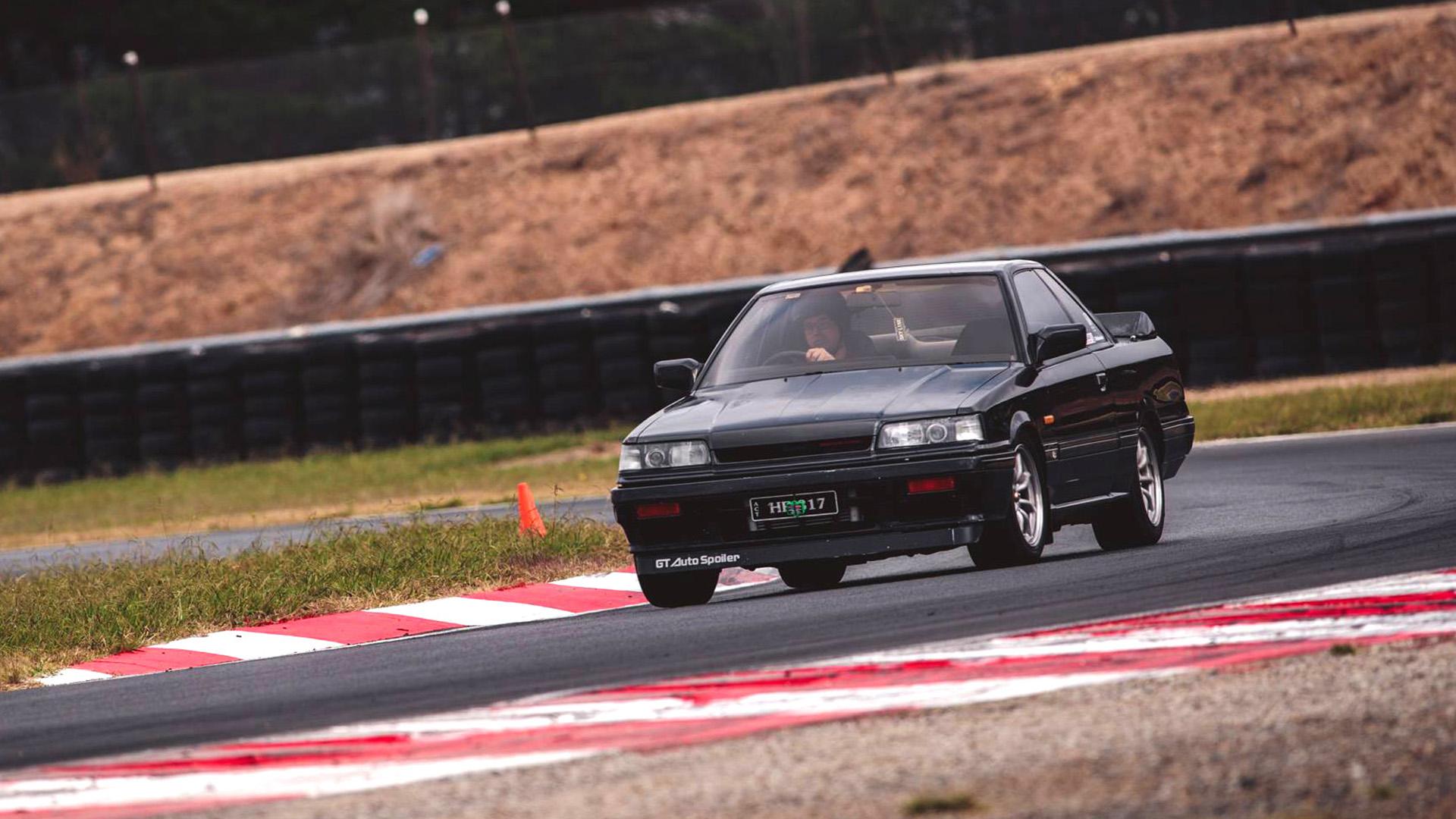 Day 25: James Westhorp
I bought Grumblebee in 2008 as a stock GTS Originally, i was building it with the goal of entering the Australian Drift Championship but unfortunately the GFC hit and with the demise of Drift Australia and i needed to go in a direction so the car evolved into a super sprint/time attack machine. 
Key events have been entering World Time Attack 2013/14 in open class, which was a fantastic event, and NSW Time Attack 2014 coming 7th outright and nabbing fastest RWD at Nulon Nationals in 2015.
Unfortunately, he's been mothballed since 2016 due to m[ving house family commitments and other 31 purchases 😀.
That said works have begun to resurrect this Bee in the year of Ni San - 2023.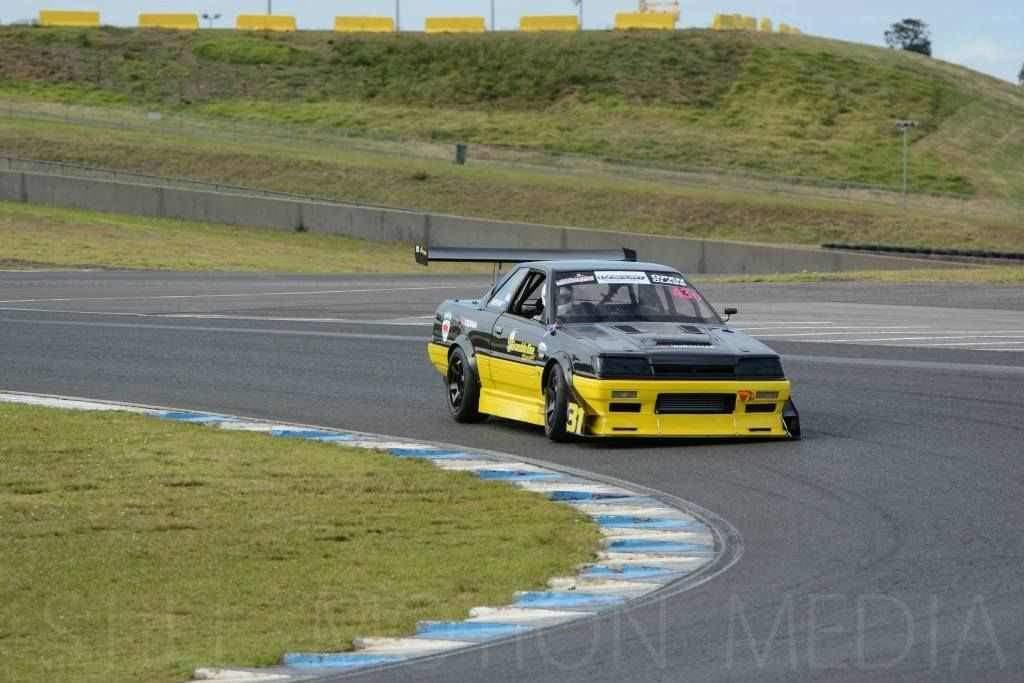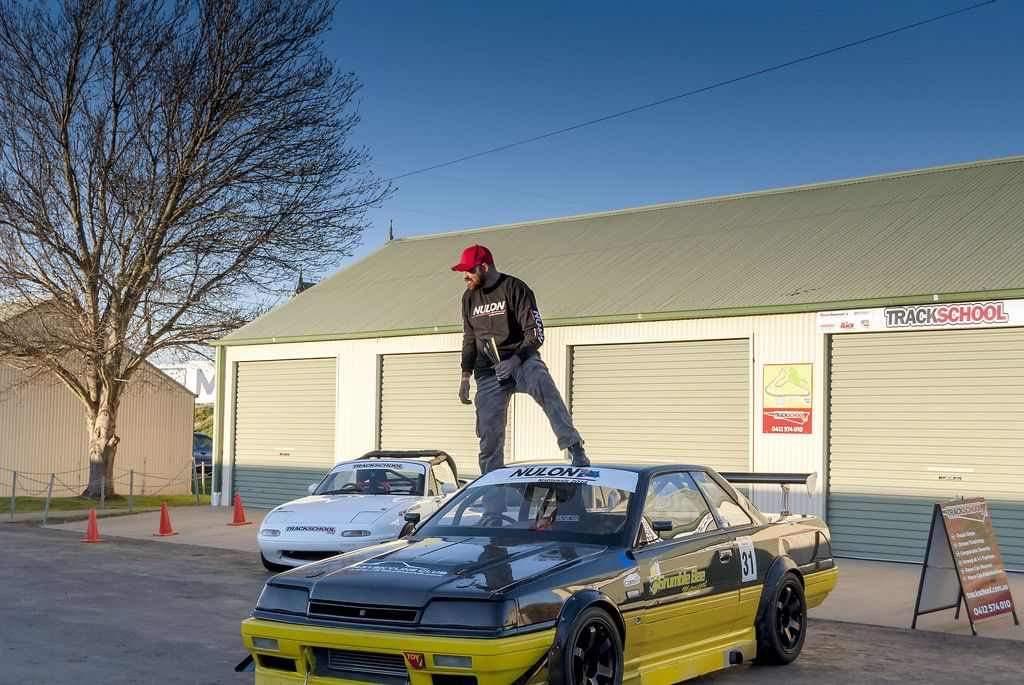 Day 24: Brock O'Brien
After attending the last few skyline days in my R33 I felt it was time to get a more family friendly car and what better car to get then an R31. With help from a fellow member and good friend George he found me a S3 GXE in orange. 
My partner, daughter and myself made the trip to orange to pick it up. Not long after another good friend was selling this unit. After a lot of convincing my partner said we could get it as long as we sold the one we just bought. It was definitely the right decision as everything was already done and my daughter absolutely loves it. 
It has a turbo LS1, turbo 400, built diff, e85 etc. It's now the family cruise car that goes to events such as powercruise and goes through multiple sets.
Day 23: Nick James (Sydney - NSW)
So, my interest in the R31 Skyline and RB motors goes back to the early 90's where I grew up around the VL commodore era. It was a staple of being a wog 😂.
Moving forward to 2020 I had some cash aside to go after a decent 31 where I found mine.
I bought it from a decent bloke in Northbridge who a year earlier purchased it off an elderly lady in Paxton NSW (Near Kurri Kurri) 
The car was originally purchased by pensioners in 1991 where it was kept garaged and looked after all its life and only has 187,000k's on the clock.
I fixed a few of the typical old car problems that affect the RB motors, and it is due to undergo go a manual swap and boost. 
I have also added a 3D printed VL style lip to the rear end that is based on the dealership lip option that came out on a few George Fury R31's back in the day (look it up).
Happy cruising, love to catchup with a-few 31 enthusiasts in the wild.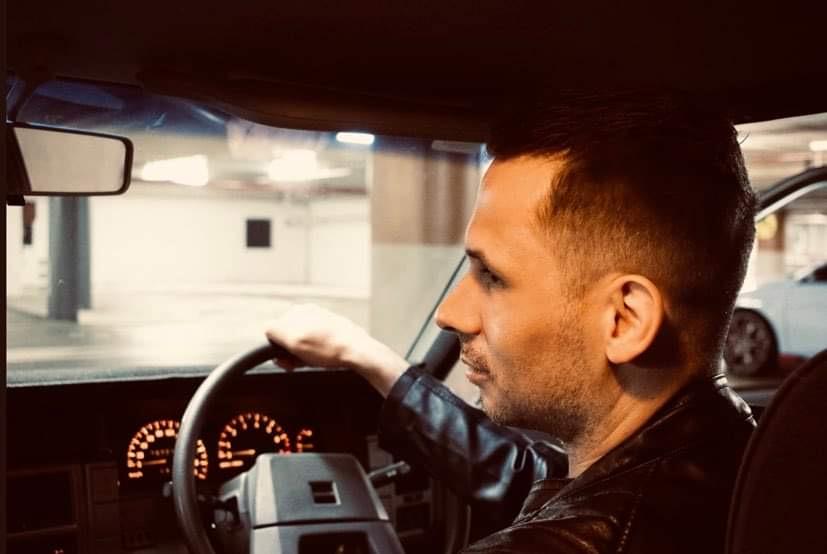 Day 22: Mark Heydon (Melbourne -VIC)
I owned a couple of Datsuns/Nissans back in my teens and 20s including a 180B SSS (awesome) and Exa Turbo (junk) before a mate had an S3 Silo (manual) came through his car yard as a trade in. It was a duel fuel so cheap as chips to run (15c/l for LPG at the time), and with some well sorted suspension the thing could keep up with much faster cars over a mountain pass. It took a beating and aside from a couple of gearboxes, was a cracking car. I sold it off and went down the path of VTEC Honda's and WRXs for a while.
Fast forward about 20 years and the same mate who found the S3 Silo, came across this S2 Ti. It belonged to the father of one of his work colleagues, and had been sitting under cover in the back yard of his house for 7-8 years. With a genuine 100,000 kms, books, service history, headphones (and Ming treatment back when it was actually something), it had a freshen up of the suspension, bushes, exhaust and the other usual items which need to be done after years of sitting idle. That is basically how it sits in these pictures.
Still runs and drives great and everything inside works perfectly. Things have moved on a bit since the 80's and i have fond memories of the "old times".
This is full Grandpa spec and i reckon this has to be one of the better original R31's still getting around.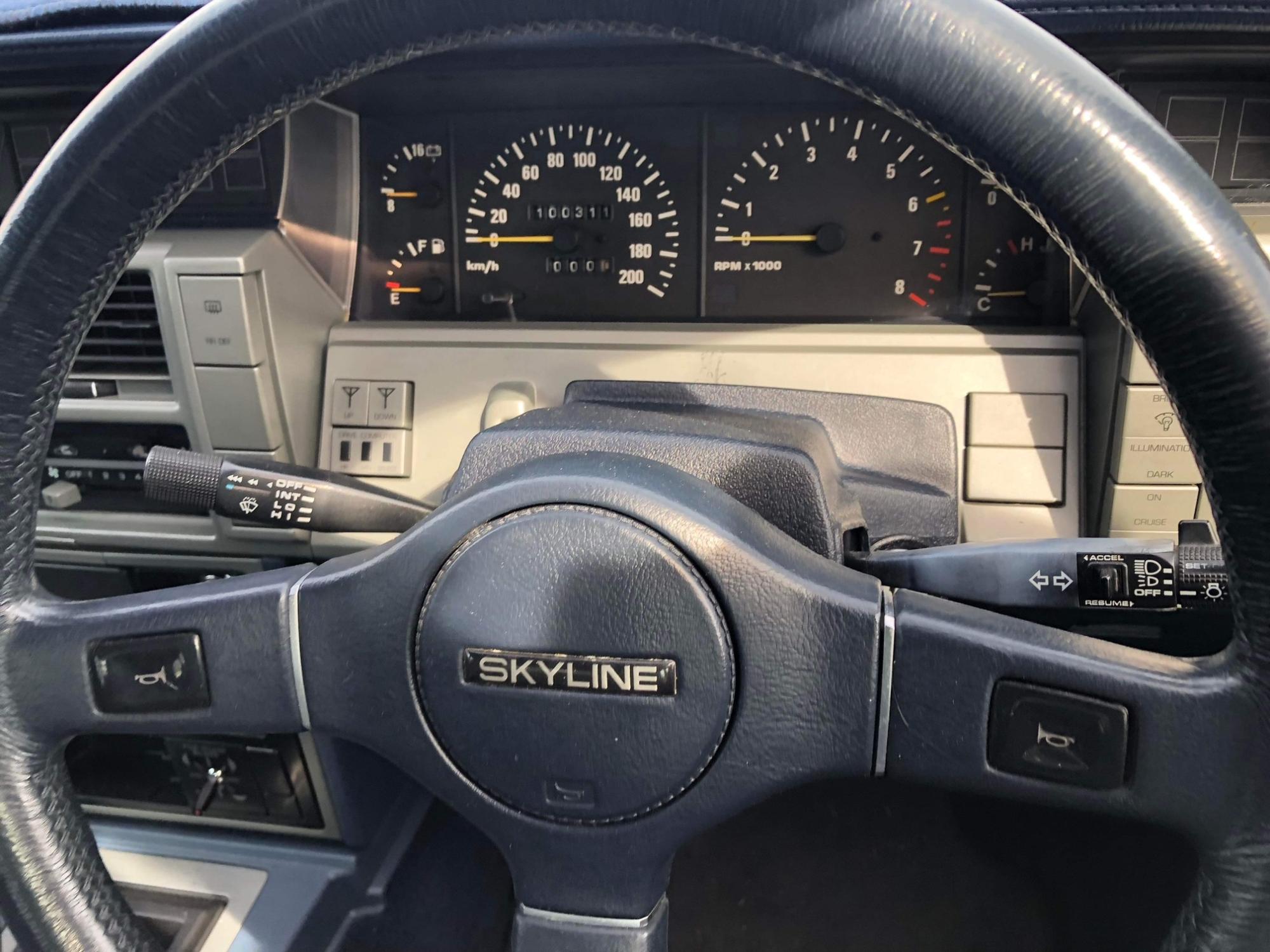 Day 21: Michael Deutsch
It all started when I turned 17 and wanted to buy my first car, I looked at commodores and Falcons, but it was old japanese cars that really caught my eye.
My father was against me buying it as he knew what would happen if I did but once I got the keys and drove it home I knew I wasn't going back
7 years later, many hurdles, and lots of help from the like of James overend, Steven Sykes, Matt Tucket from Angry industries and many many others, I have A car I'd only ever dreamed of owning that makes me smile every single time I drive it.
Originally I wanted to do the car up as a Naturally aspirated skyline but luckily, I met club members James Westhorp and James suman, it didn't take them long to convince me to do it properly.
My Mechanic and friend Ben from Moore Auto helped me to realise my dream of having a powerful, useable street car that is subtle when you need it be, but terrifying when the moments right.
I'm glad I bought this as my first car, it's taught me alot about working on cars along with some other life lessons, and introduced me to a bunch of great people who are always happy to lend a helping hand and that I'm proud to be able to call friends.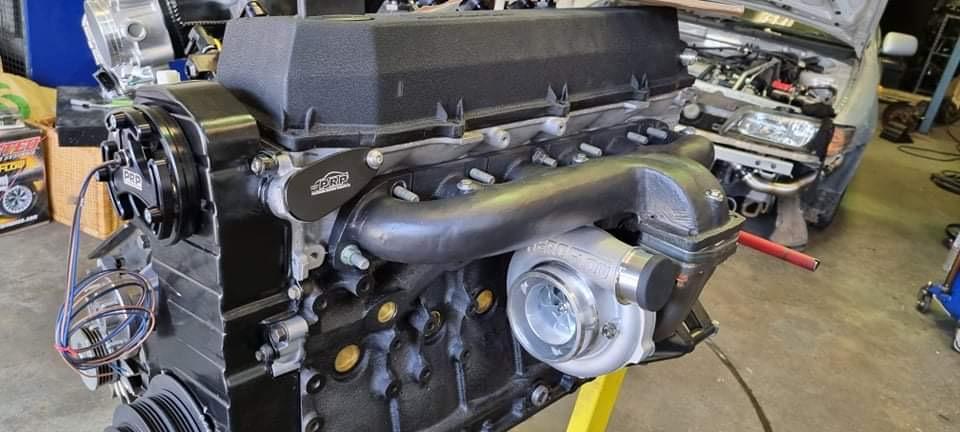 Day 20: Trevor May (Adelaide SA)
1986 HR31 GTS-X.
After attending the 97 SVD nationals in canberra and seeing my first HR31 on the street i found this one for sale. I purchased it form QLD site unseen. Just a couple stamp sized pictures. It was the display car for an import company that wanted to get a Turbo 300ZX instead.
Was one of the first grey imports in Adelaide. Drove it a lot in the early years then put it away for a couple years when the local police started cracking down on the import cars.
It's funny now when we go to car meets now and people are looking at it and my daughter (20) tells them about her being in the car seat in the back. 
This car is truly a member of the family. :-)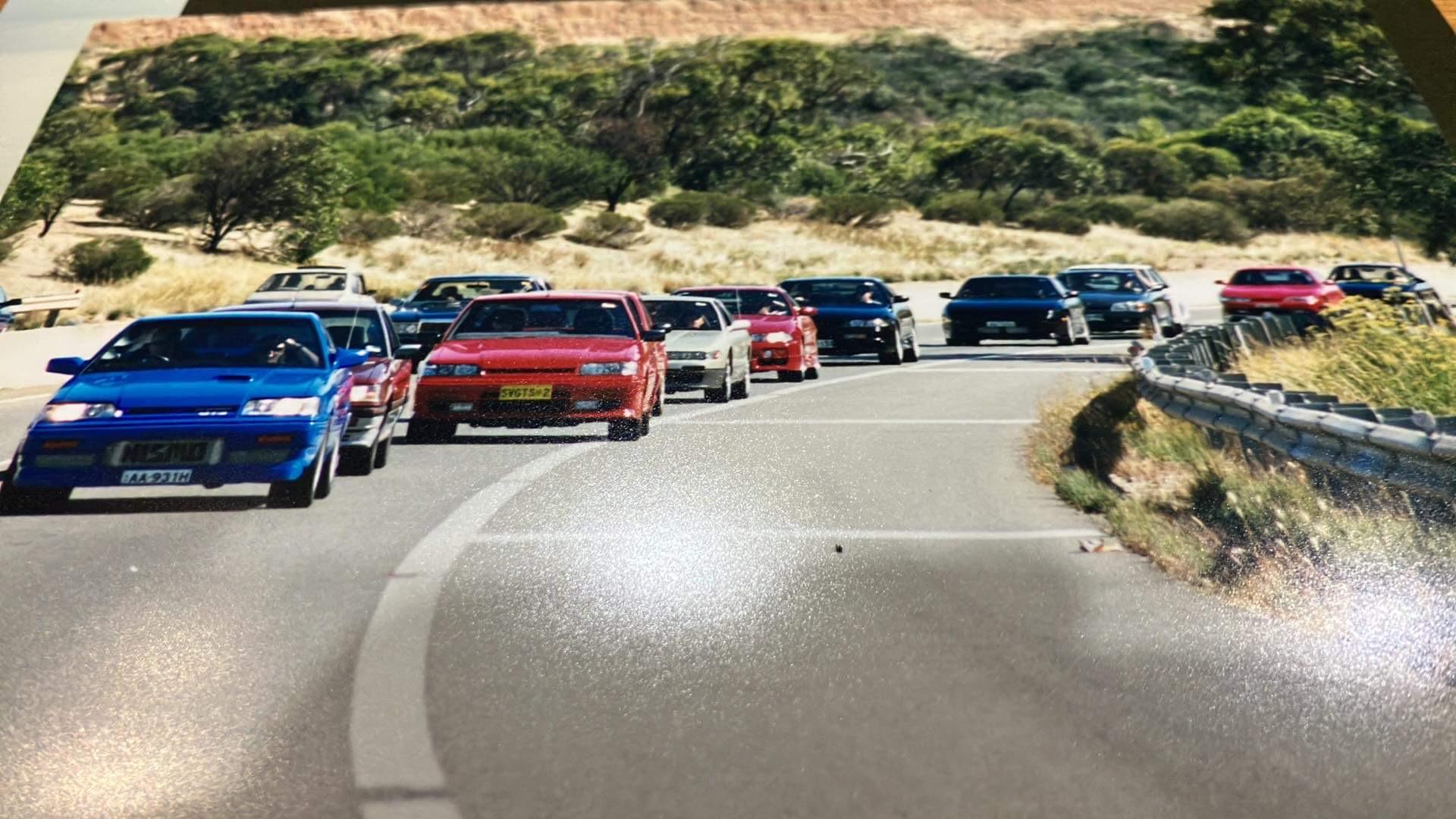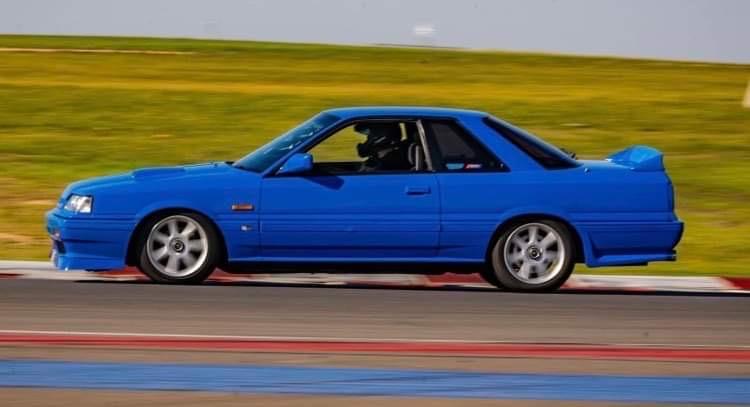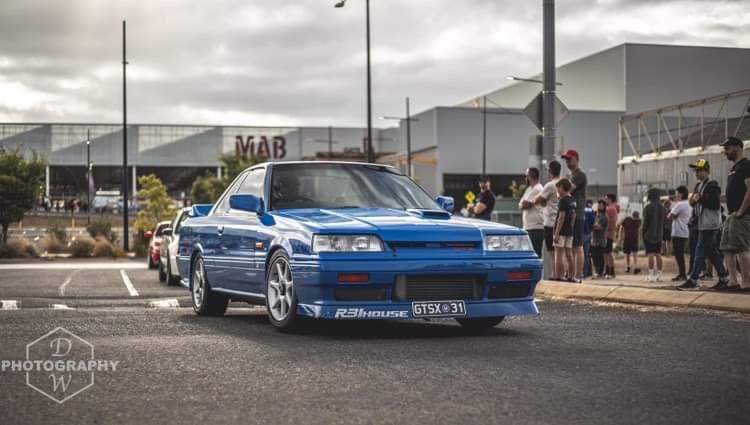 Day 19: Josh Milczarek
This is my 1988 r31 that i bought 3 years ago and I've always liked r31's since I was about 13 years old. I've now owned 6 in total and this one's gotta be my favourite. 
I got the car completely stock and I always wanted to build and own a cool r31 street/drift car that is somewhat different, everything done to the car I've done myself from repainting with rattle cans (looks horrible now). It has a full GTS2 style body kit doing a full budget turbo build that only cost me $1000, basically just has a top mount setup with external waste gate and stock ecu, stock injectors and a walbro 255 fuel pump running 7psi i daily drove and abused the car for almost a year and it still has not died despite being untuned.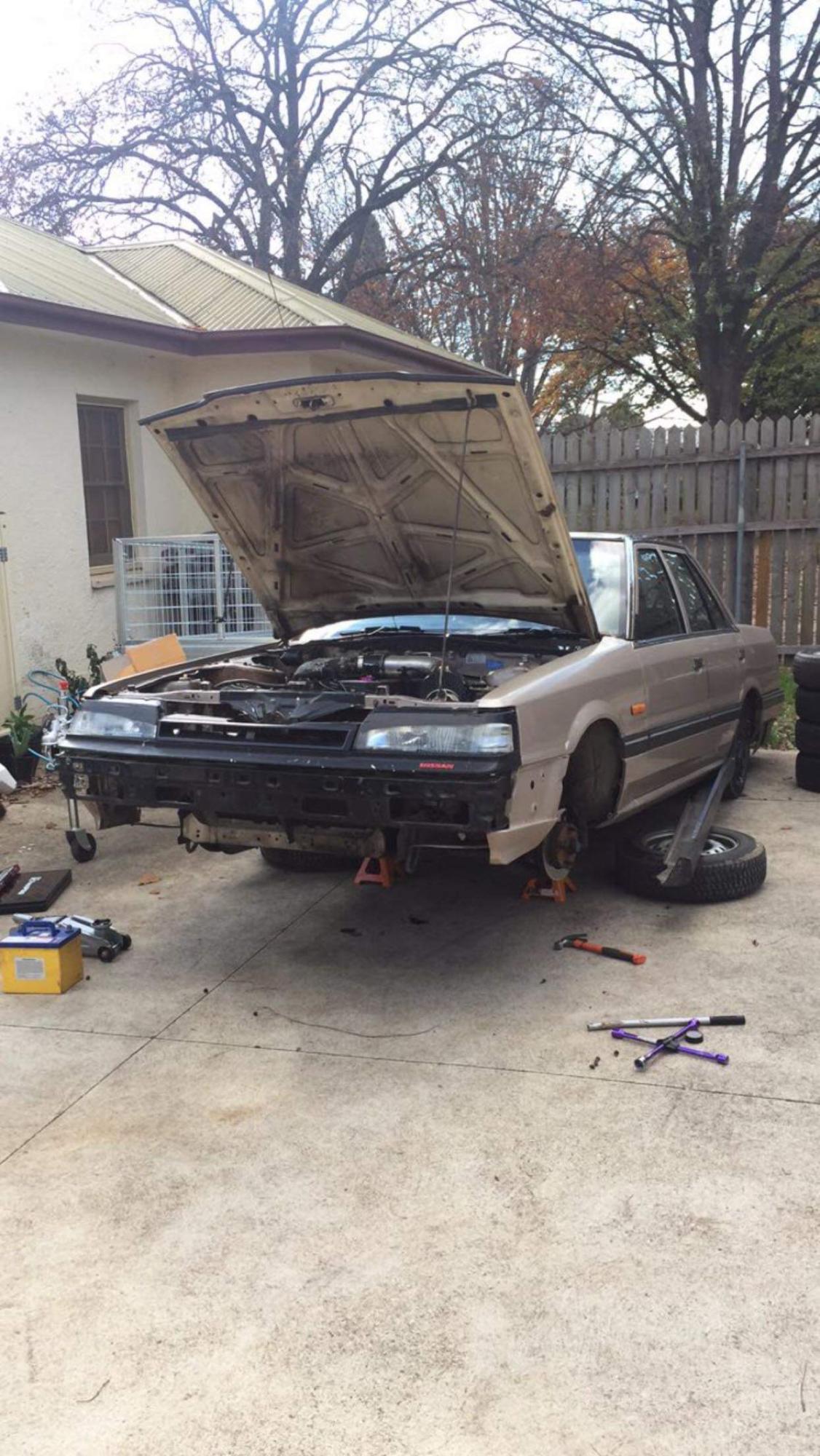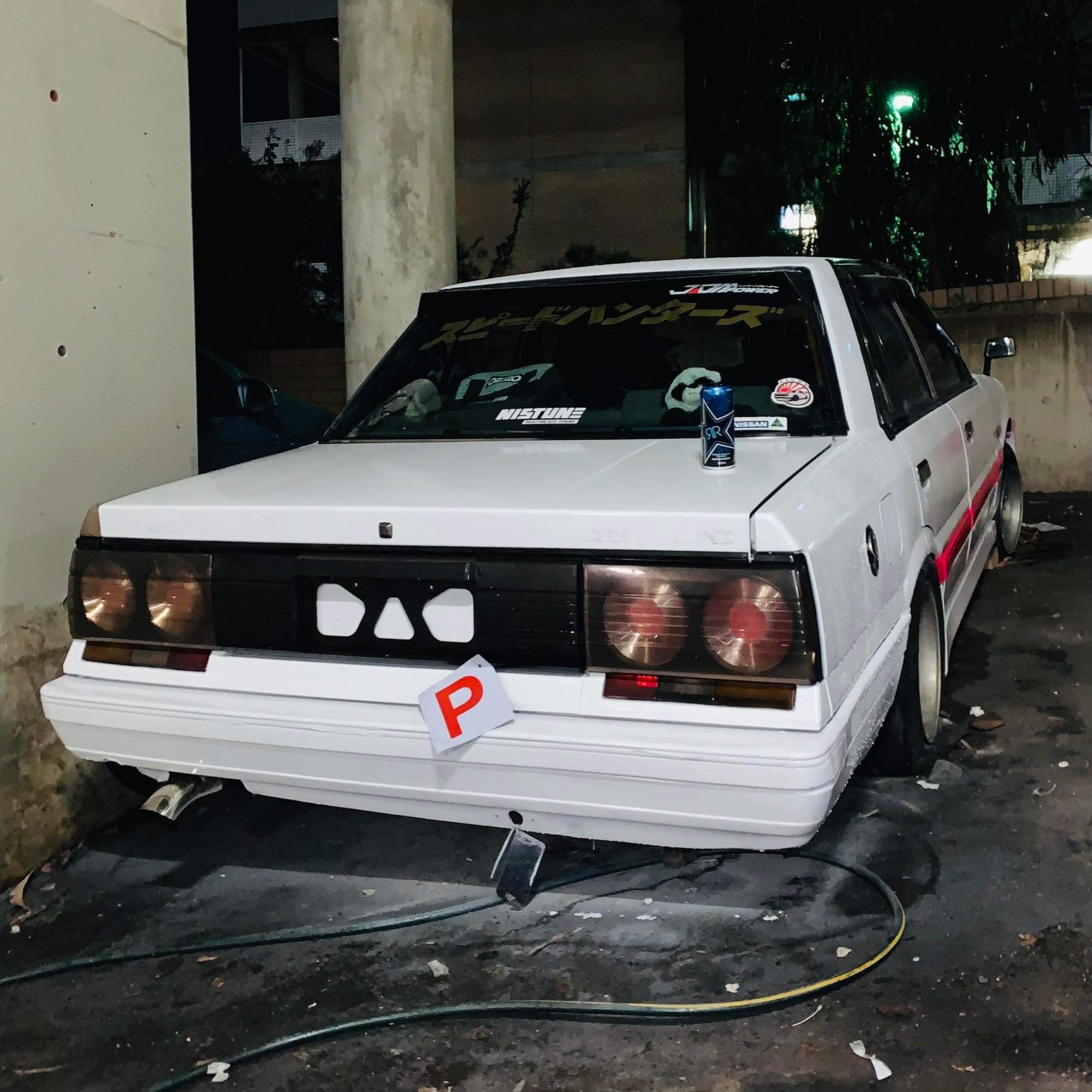 Day 18: Joel Spencer (Benalla - VIC)
My fascination with R31s was sparked by my dad. It all began with his brand new S1 white GX, which we owned for a few years. Eventually, he upgraded to an S3 white Silhouette fitted with S1 GTS wheels. But a few weeks later, he spotted a GTS1 and made the wise decision to trade in the S3 for it.
The rumble of the GTS1 engine and the snug, supportive seats left a lasting impression on me. When I turned 19, I purchased an S1 GXE wagon for myself, which I enjoyed for two years before selling it to my mum. She held onto it for about five years, and then it was passed down to my brother. By that time, it had covered well over 500,000+ kilometres.
In 2019, while browsing Marketplace, I stumbled upon a set of GTS1 wheels. My gut told me to buy them, so I took a trip to Newcastle and brought them back. Of course, this meant I now needed a Silhouette to mount them on. Nostalgia had taken hold of me.
There weren't many Silhouettes for sale at the time, so I scoured the market and visited a few locations, driving from Sydney to Goulburn, but none of the options met my criteria. Finally, I came across a white/silver S1 Silhouette in Sydney. Despite having some rust, it drove well and was the best choice amongst the selection I'd seen.
I spruced up the interior with a blue stripe, upgraded the Silo steering wheel to leather, refurbished the GTS1 wheels, performed some mechanical work, and got it running beautifully. The power delivery is so smooth and linear.
Knowing that I had to address the rust issue, I began removing panels and quickly realised that the rust repairs would be expensive. The quotes I was getting was over my budget. Early one morning, while browsing Marketplace yet again, I stumbled upon what appeared to be an S1 Silhouette rolling shell without an engine or gearbox. I thought, if it's in good condition, I could get it resprayed and transfer the running gear and good parts from the white one to this shell.
I went to see it that same day and discovered that it didn't have rust in the critical areas like the white one did. I bought it, knowing it would save me money.
Within a few weeks, I found an excellent panel beater who is taking great care to prepare the shell for a respray next month. As luck would have it, I found a GTS1 interior on Marketplace that was less than an hour away from my location. Although it was pricey, I couldn't resist and ended up acquiring it after some negotiation.
So, what will the final result be? It will be a red over silver S1 Silhouette equipped with GTS1 white rims and a GTS1 interior. The modifications and upgrades will include:
• HR31 front struts with R33 non-turbo callipers
• Upgraded brake booster
• Braided brake lines
• Full engine service transferred from the white Silhouette
• New bolt kit
• Digital cluster
• Upgraded or new lines, pipes, seals, rubber trims, and many more I'm sure once it's on the road
You can follow the restomod on r31.skyline.silo and I've put my design skills to use and created a range of R31 Silhouette merch www.drivedays.au/drivedays/nissan/r31-skyline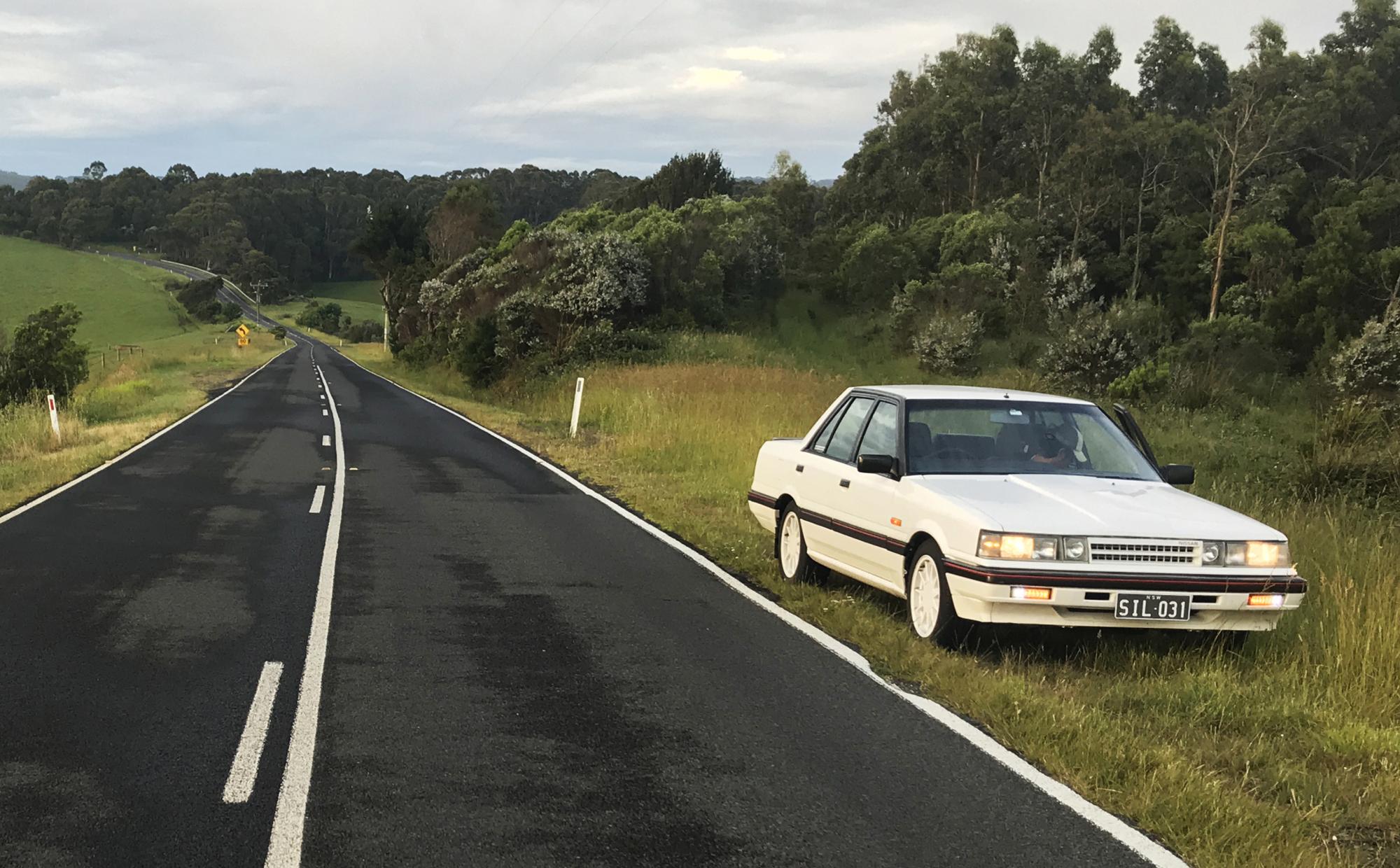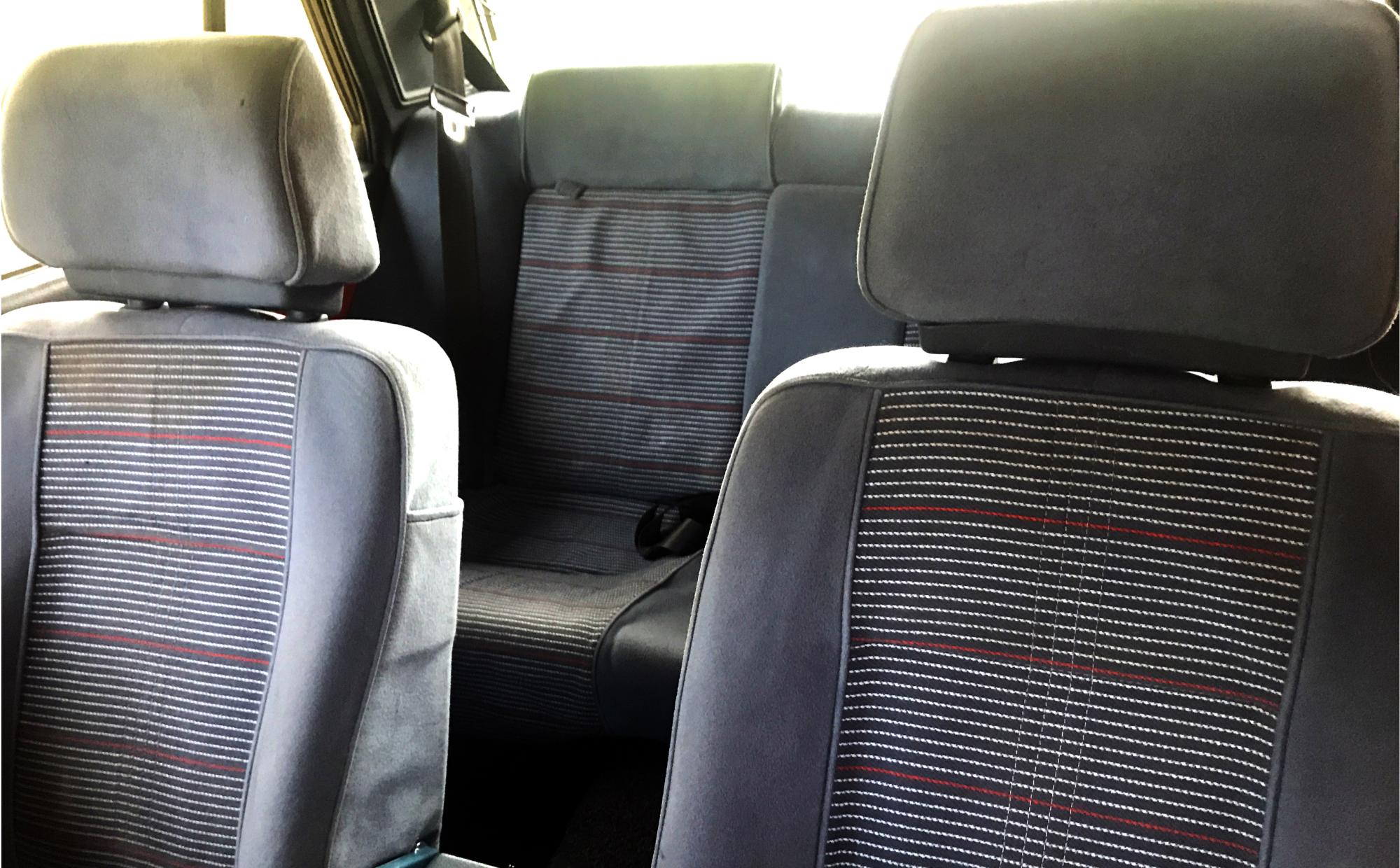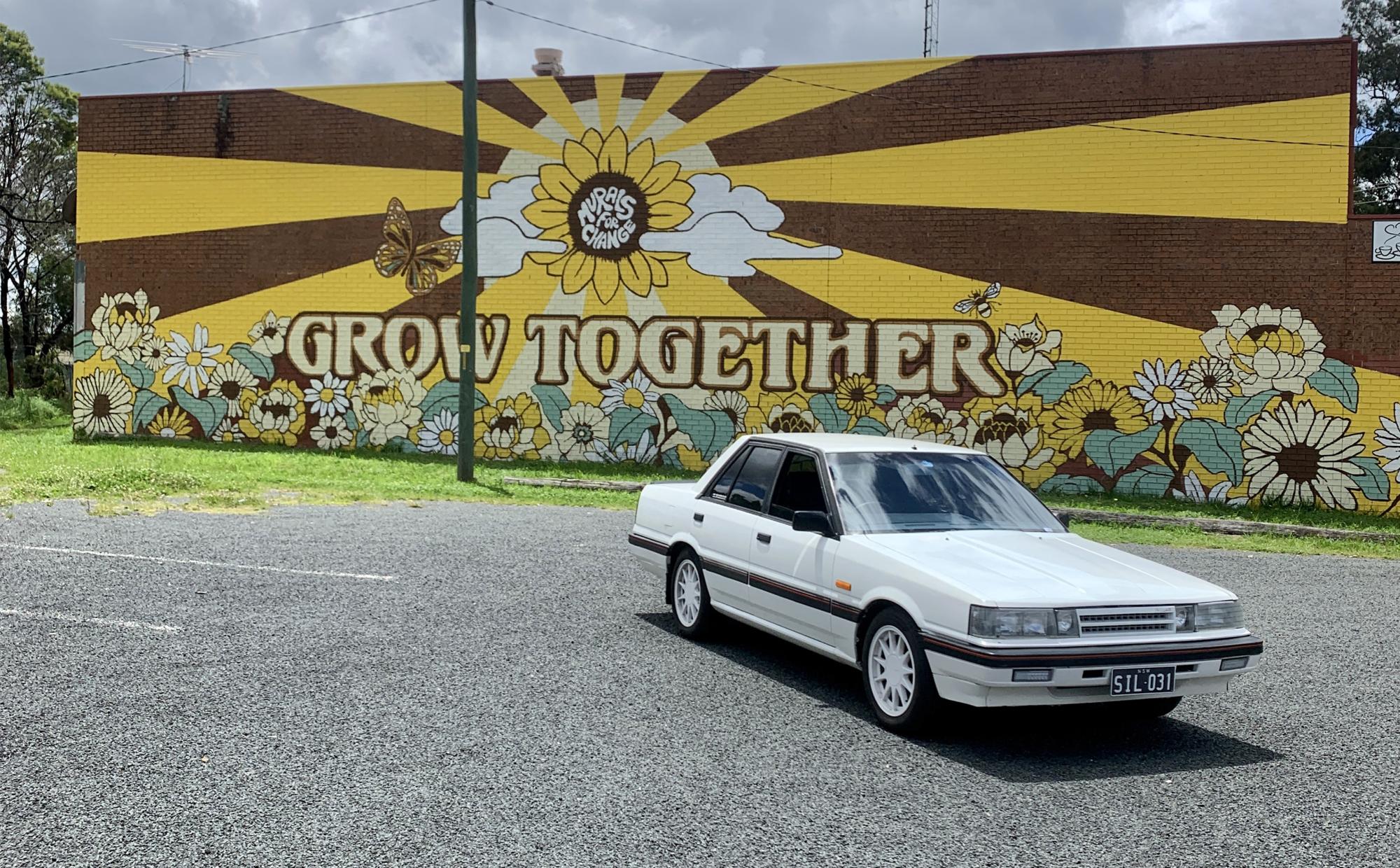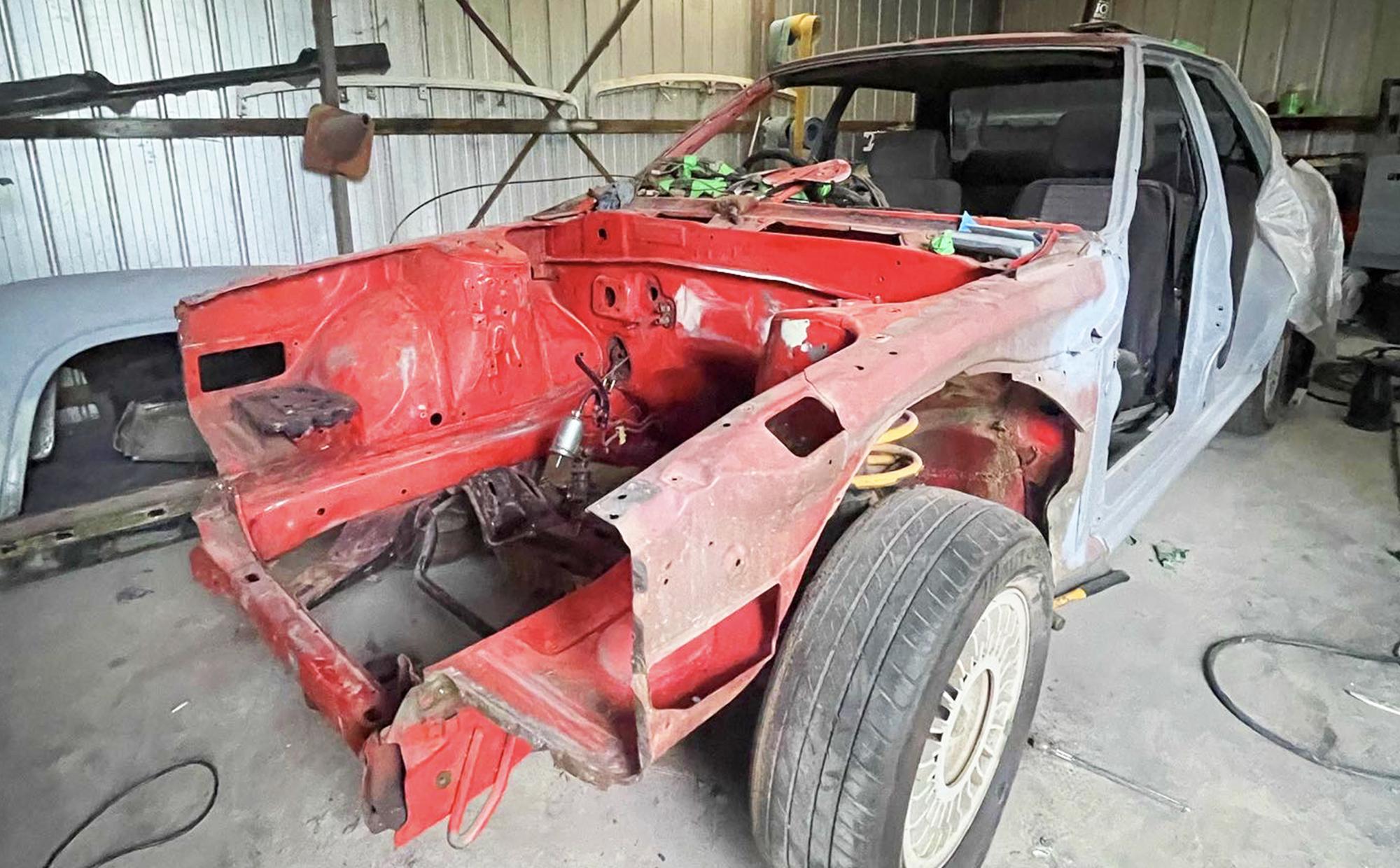 Day 17: Kameron Sykes
This is my 1988 s2 GXE R31 (WARNING BIG STORY) I first saw it on marketplace in 2020 and one of my best mates was also looking at it. We both wanted a project to work on he had offered $200 and they said yes, which I was surprised they would sell it that cheap. So I thought I'll send a message and offered $500 and they would drop it off at my house. SOLD grate I now own three 31s. 
The car was in rough condition cause it had been sitting on a farm in Yass. First problem was to get it running well that was easy it was the fuel pump. 
I put a spare one in that I had laying around and off she went, the best money I had ever spent even did a skid in it to make sure she would past the test. ✅ the motor was a-bit sad so I cleaned up the head as it was caked in old oil. After I had everything working good I got it passed rego inspection ✅ 
I drove the car around for a bit with the auto until I had enough of auto life and swapped my manual running gear into it. The car get used for drift events and street driving.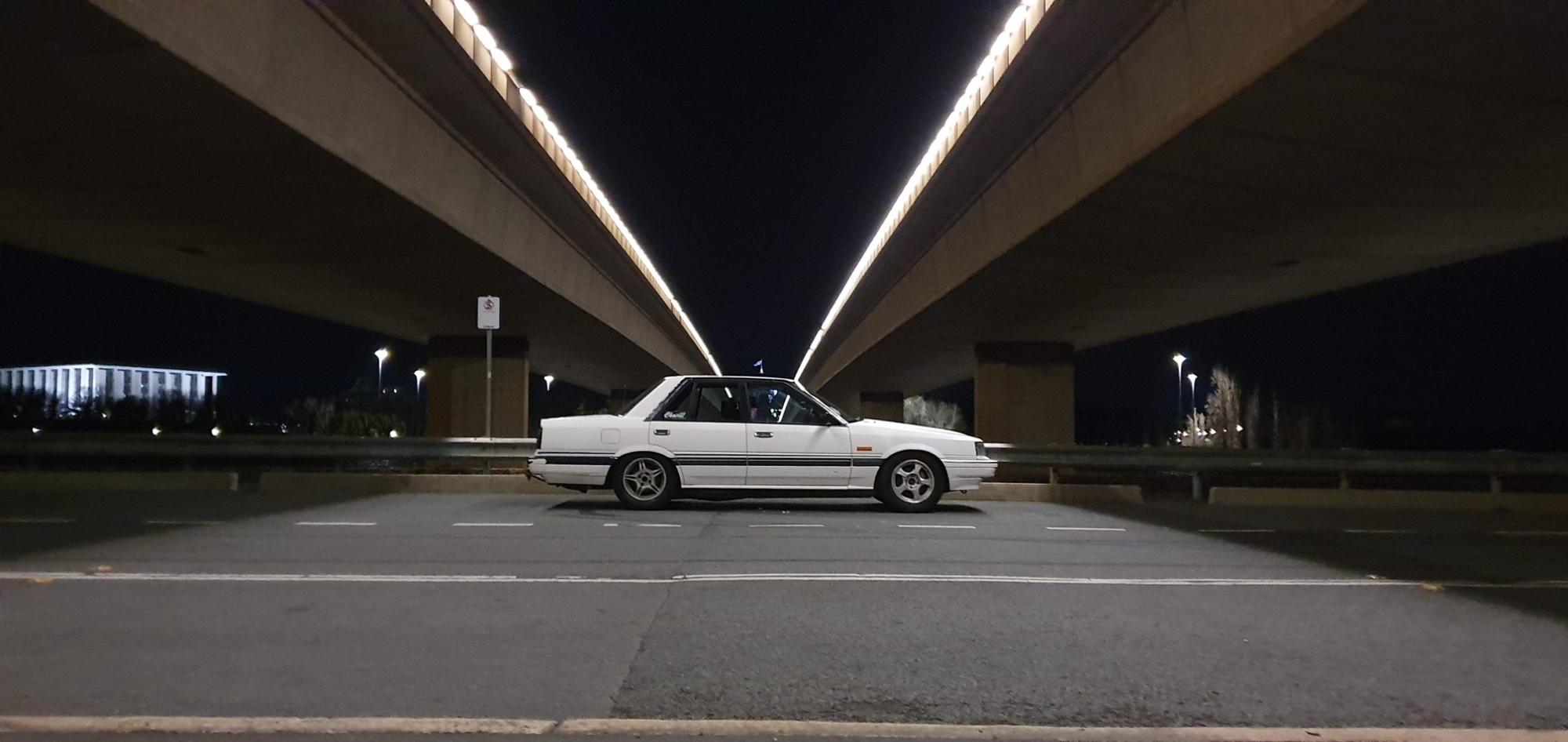 Day 16: Graeme Taylor
This is my 1989 R31 GTS Series 2 , built # 145 of 200.
Fully restored ( rotisery restoration ) with 95% of parts new from Nissan spare parts catalogue. No expense spared in its re build. Originally sold new from Adelaide dealership before making its way to Melbourne, then on to me. 
Engine has a slightly larger camshaft than factory and upgraded exhaust system.
Absolute beautiful Sunday cruiser.
Day 15: George Barbara
Hi this is my 1990 r31 I purchased 10 years ago at the time it was a stock standard family car and over the years I turbo'd it with the manual transmission attending many drift events towing a box trailer full of tyres. 
With the closing of wakefield park I turned to more straight line stuff and after breaking my 2nd manual gearbox I decided to put a 2 speed powerglide in the car at this stage it has run a best of 10.8 125mph. 
Plans for the future are to switch to a twin cam and try get into the 9s with plenty more adventures with mates.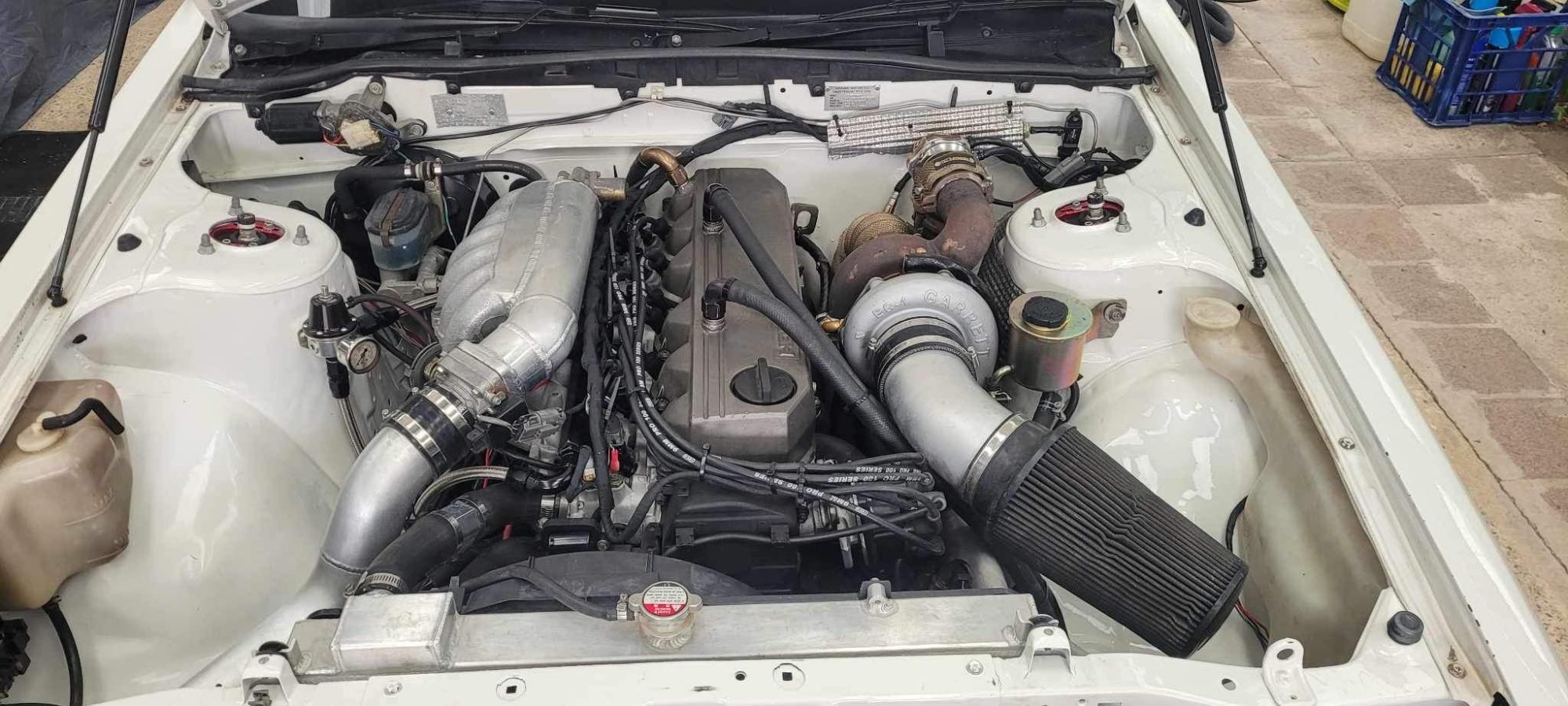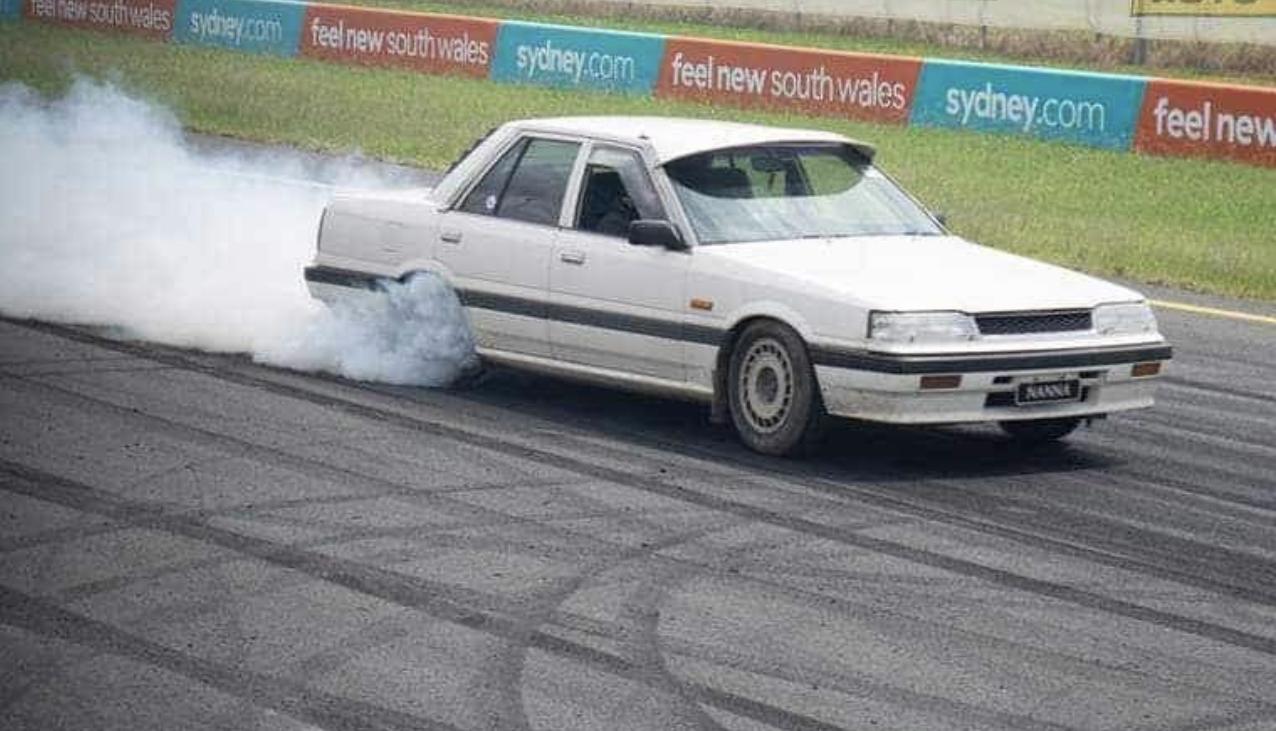 Day 14: Stevan Sykes
A bored late night scroll through Gumtree back in 2015 and I came across this gem in Goulburn S3 R31 skyline Ti in grey.
A quick price negotiation and before I knew it the car trailer was loaded up for the next day, turns out it wasn't as simple as hooking it up to the trailer and off we go. The poor thing was tucked down behind a house in pieces from the previous owner. 
After convincing the misses to steer it onto the car trailer sitting on a milk crate as we struggled to push it on the trailer, turns out as the rear springs were missing she was stuck in the car on the trailer haha. 
From here this will become the new platform for the LS Turbo combo 
The car now consists of a stock bottom end L98 6lt, GTX45 turbo, 1500hp Th400, built M86 rear end and an E85 fuel system. 
The current setup is rolling in at 530rwkw on the hubs, the sole purpose of the car is track use for now but might hit the streets in the future.
This car had been featured in 1320video at powercruise back in 2020, came 2nd in powerskids in 2019 and smashed endless sets of tyres off it.
Day 13: Adrian Morosin
When I was 18 I got my 31 and couldn't have been more excited. The guy I bought it off was a bit reluctant but knew it was going to a good home.
Since then I have done a few little things but the main one being a bit of work on the motor. It started as a goal for 150kw but one thing led to another and by the time I had handed it over to the trusty hands of Stevan from Sykes automotive and sent to it to Stay Tuned I received something that was capable of pushing 300kw. 
When I got it back it scared the sh*t out of me and I'm still learning to drive it properly. But it never seizes to put a smile on my face.
Recently a few things have broken and I have taken it off the road for a little while but I can't wait to bring it back and show what I've been working on.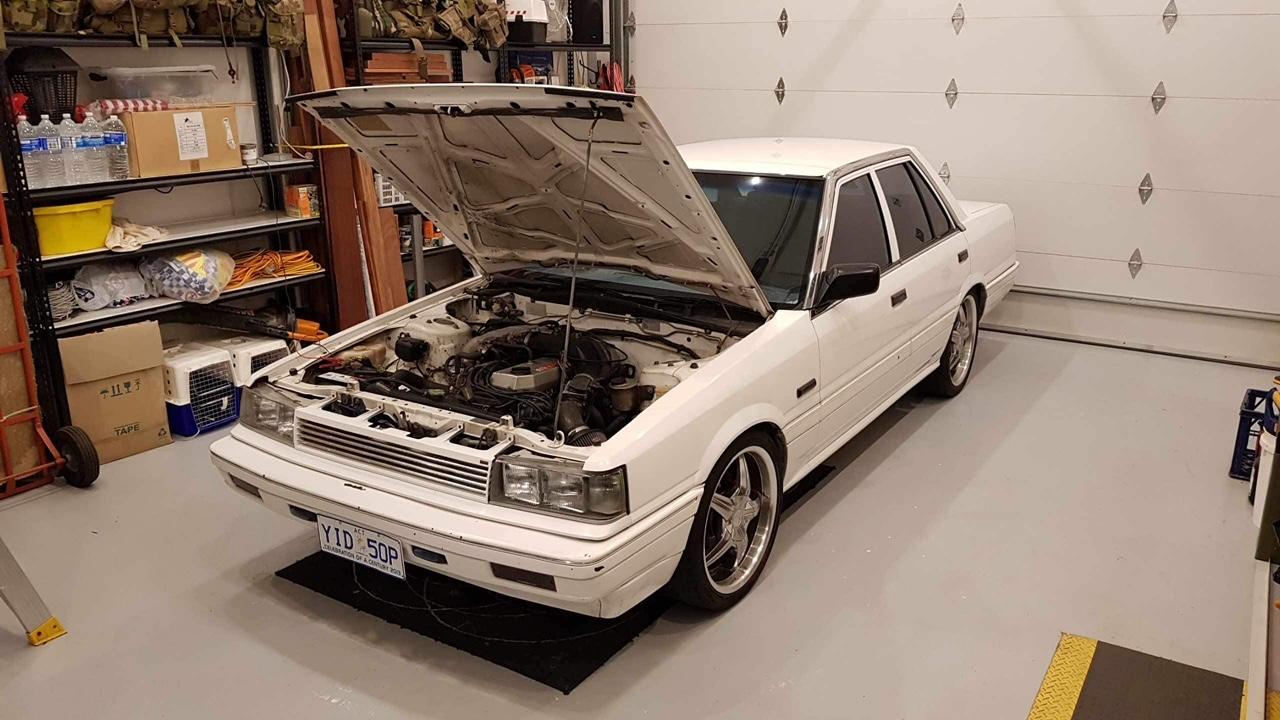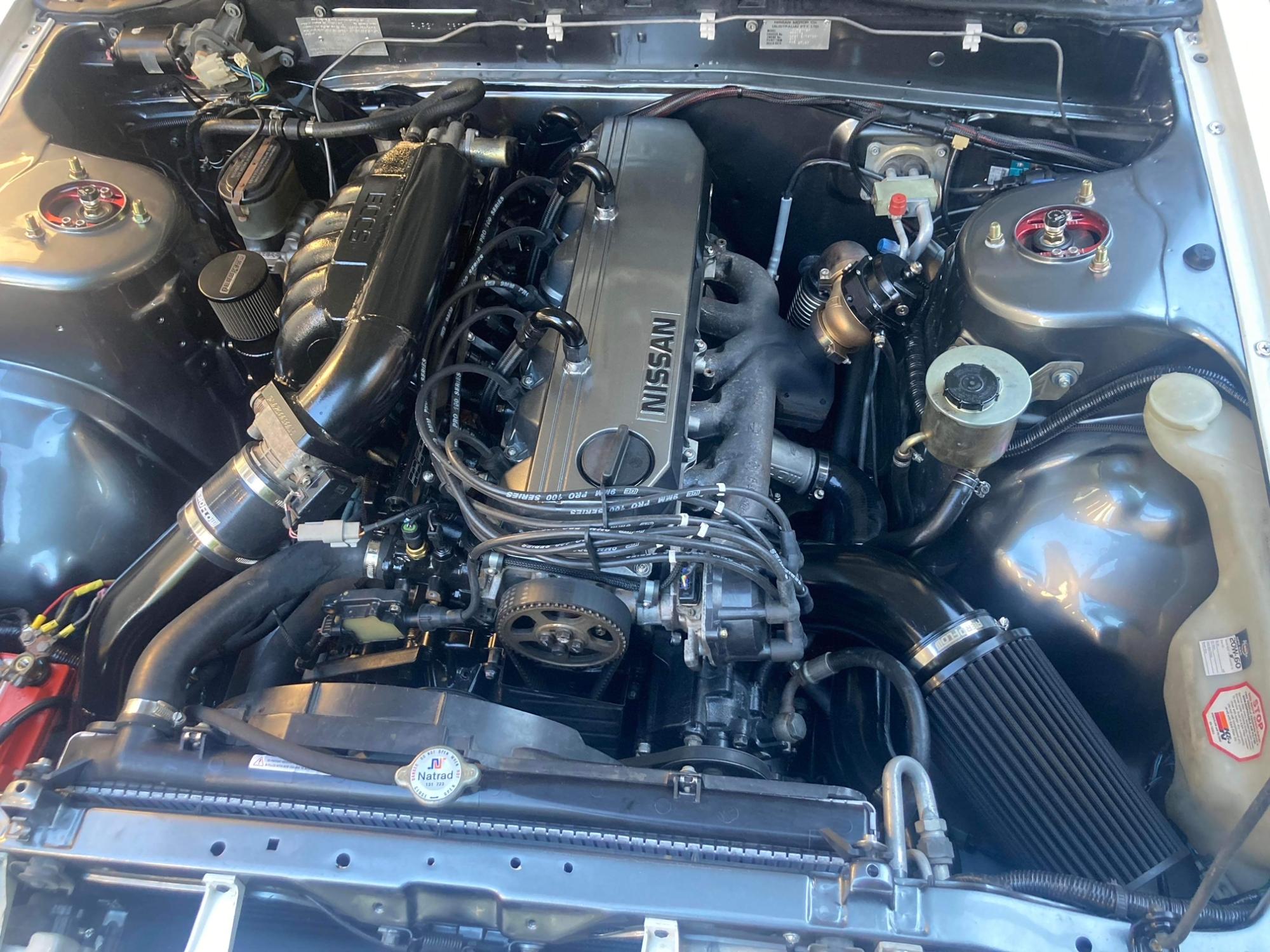 Day 12: Elliot Scott
The R31 Skyline was always a car that I admired the shape and loved the hot plate taillights. In 1998 I signed a deal with a Fyshwick car yard and purchased a midnight blue GX model. As the years went on, the car saw all the basic upgrades and fitted with some forced induction. The secondhand parts from a VL turned the R31 into something a little more exciting to drive. The noise coming from straight out the dump pipe and the flutter from the intake, I was in heaven.
From there the R31 followed me around the country, all the way up to Mt Isa and back. More and more upgrades along the way from paint job, bigger turbo, ECU's, Gearbox's, roll cage, wheels and even a built motor. Drag racing became a focus and something I enjoy doing so I choose to move down the pro-street image. Power levels kept on increasing till eventually it stopped working and I melted cylinder 5. It was fun while it lasted. I was up for a decision on whether to keep the RB power plant and build something stronger or go another direction.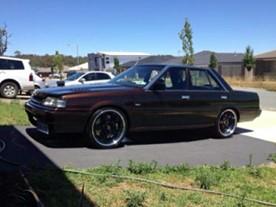 With one of my best friends at my side, Mr Stevan Sykes twisted my arm (not very hard) and we moved the R31 to the dark side and fitted the L98/turbo combo into the 31 and I must admit looks at home in there. Power increased again with little to no effort and drivability improved. After attending one of the Coota events I hurt the engine (my fault), and I was up for another decision on what to do next. With more help and guidance from Stevan, I built a fresh basic forged engine in my garage and keep the rest as it was due to budget constraints.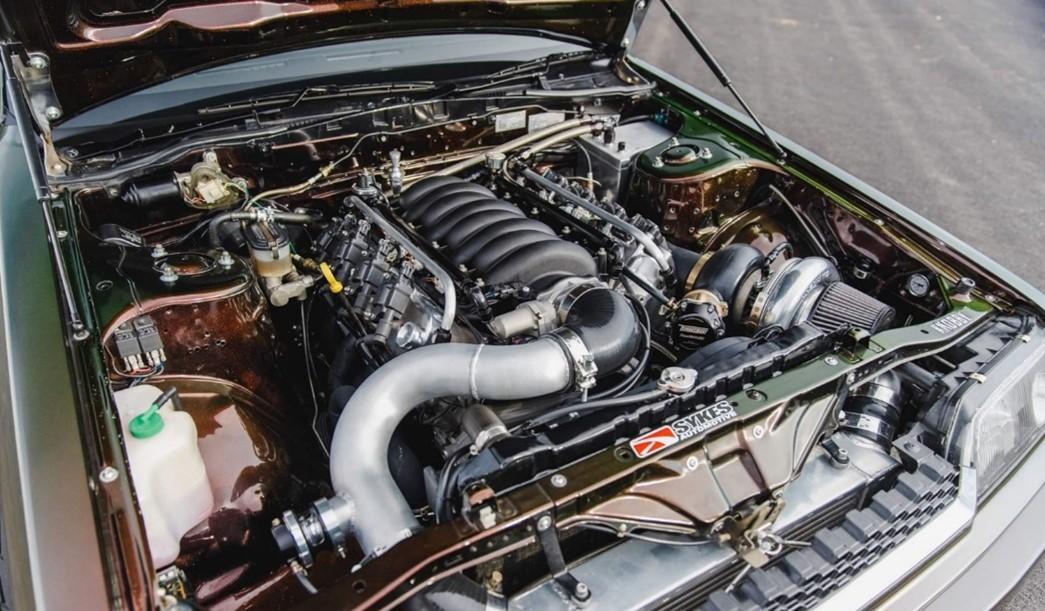 The car hasn't missed a beat since and always performs. The R31 is sure part of the family and will be for some time with more and more upgrades I am sure.
Day 11: James Suman
This nugget came into my life back in 2009, I had a coupe at the time and we bought this car to manual swap the coupe. It ended up being decent so my dad put another gearbox in it and used it as a courtesy car for his repair shop for many years. 
Over the years I kept borrowing it, and eventually I didn't give it back! I put a T3 turbo setup and GTS bilstein suspension in it, and did everything from drift to powercruise to road trips in the car. 
Eventually I upgraded the engine, now making around 300kW, and more recently I have converted it to an auto from an R34, and did a respray. 
This car holds many special memories and I've met some of my best friends as a result of owning this car.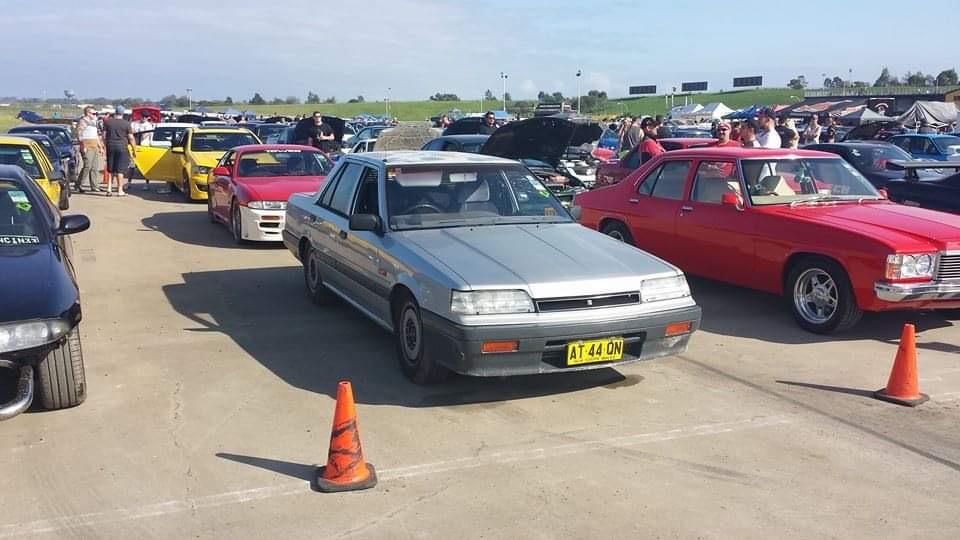 Day 10: Sean Littlejohn
This car was built by a fellow club member originally and had the rb20det swapped by them, a friend of mine then purchased it and built his first drift car. I purchased the car in 2015 off my mate after he "upgraded" to an r32.
I entered a few drift days with it just after I bought it and found the diff needed an upgrade, so I had a kazz 2 way installed. I drifted like that for a few more years. In 2021 I was driving at the last Wakefield day before its unfortunate closure and I blew the rb30 gearbox, so it was time for a birthday for the car and it got a brand new r34 gt-t gearbox.
The plans for the car are a forged bottom end rb25det with a set of cams and a good turbo with the aim of around 250rwkw.
Day 9: Damian Brice
I previously owned a series 3 silhouette for 7 years which I sold to make space. 
After a few years of not having an r31 I decided I needed another so I picked up the sedan off gumtree with and did a basic tidy up for rego. 
Not too long after this I decided it was finally time to get the coupe I had always wanted since owning my first 31, I am looking forward to getting the coupe registered to enjoy it on the road.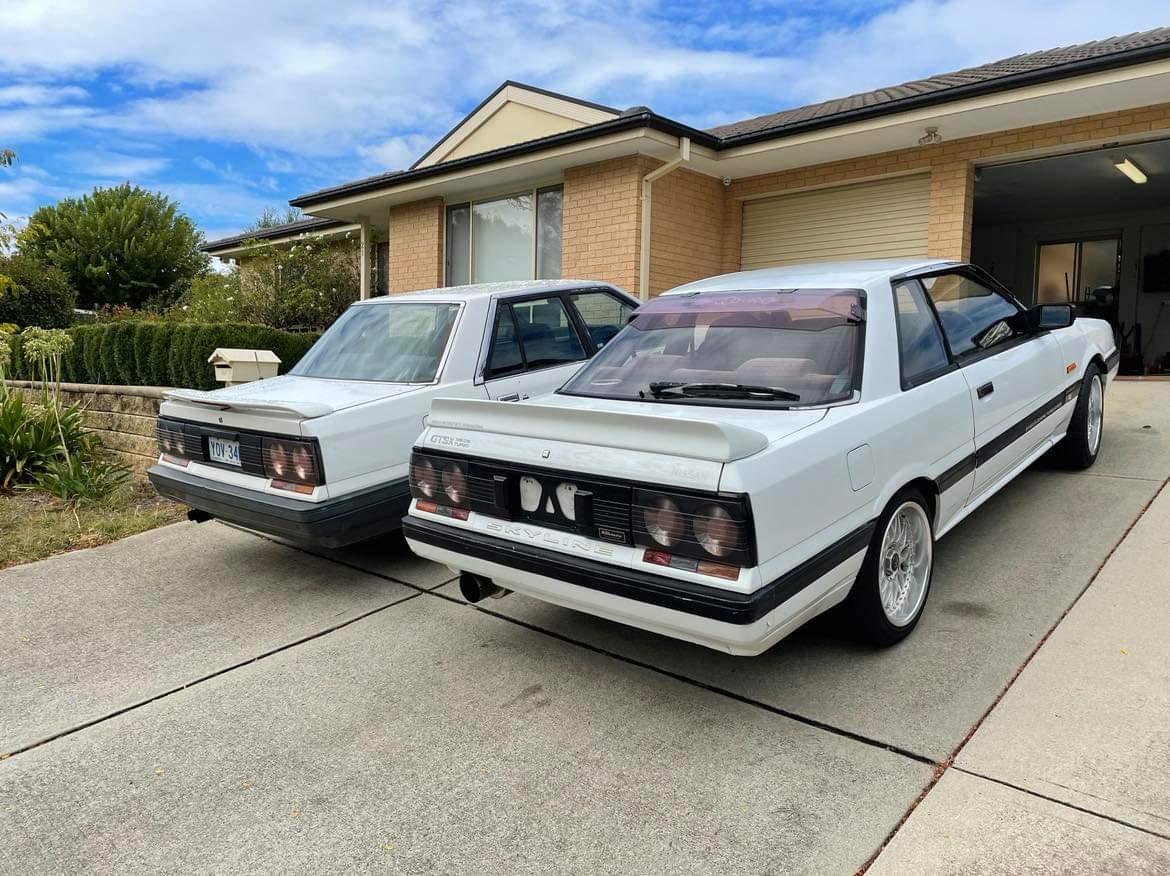 Day 8: Tyrie Starrs
Ty's Series 3 GX manual set him back $800 which made it a perfect contender for the shitbox rally. In 2012 and 2013 the R31 comfortably handled the roughest conditions on offer doing Melbourne-Cairns via Cameron Corner and Adelaide to Fremantle via Uluru. 
In addition it also competed in the Temora 1000, SDMA hillclimb, MGCC motorkhana and LCCC khanacross where it was never competitive but always fun.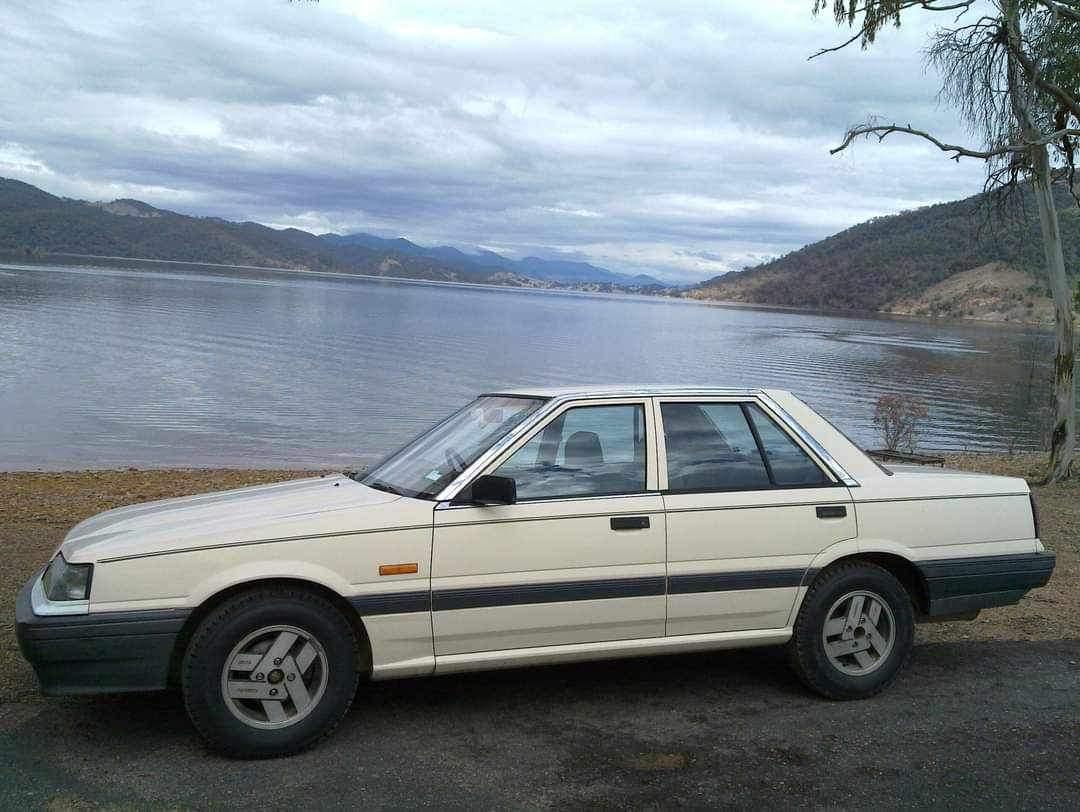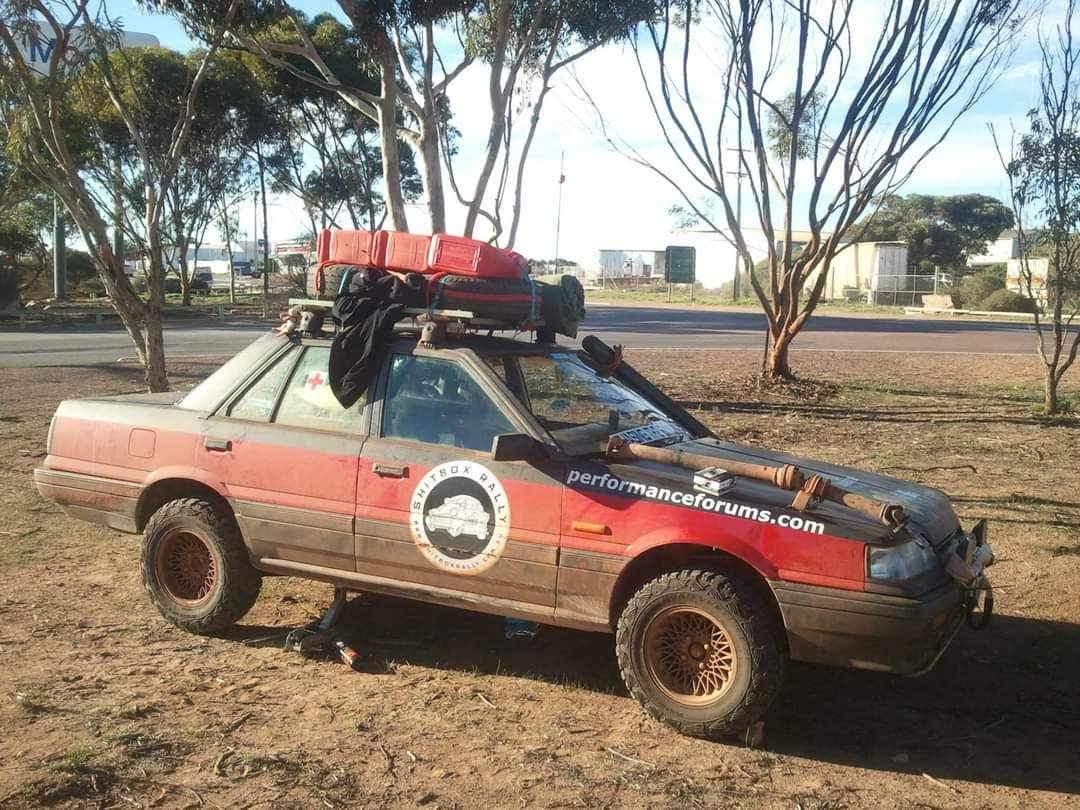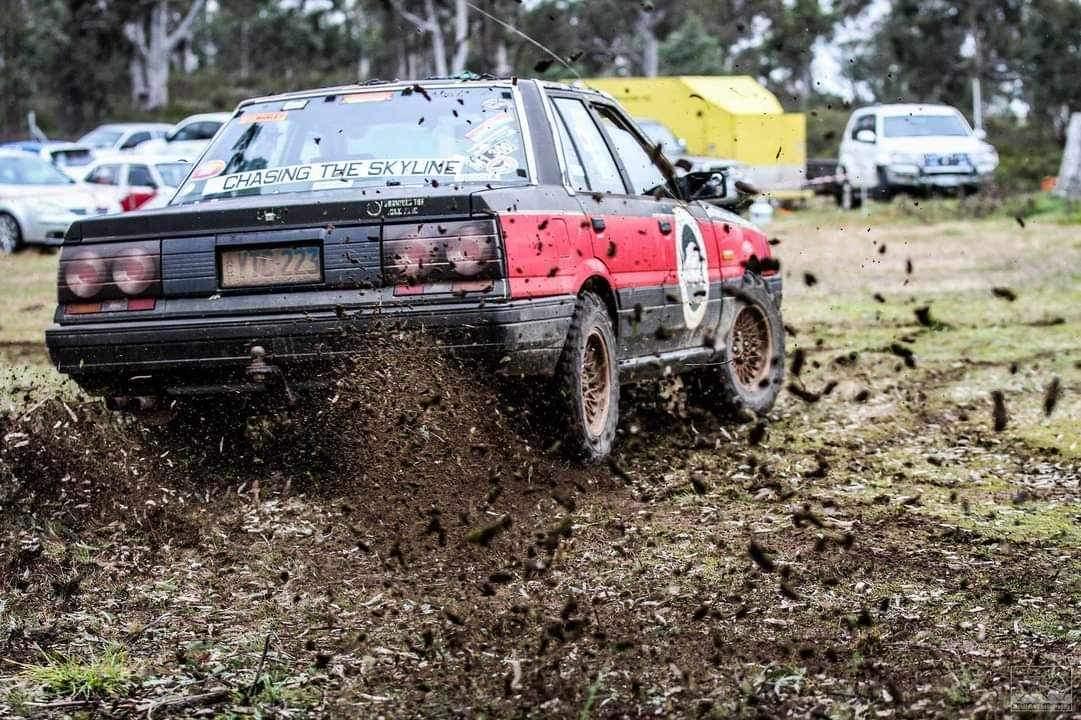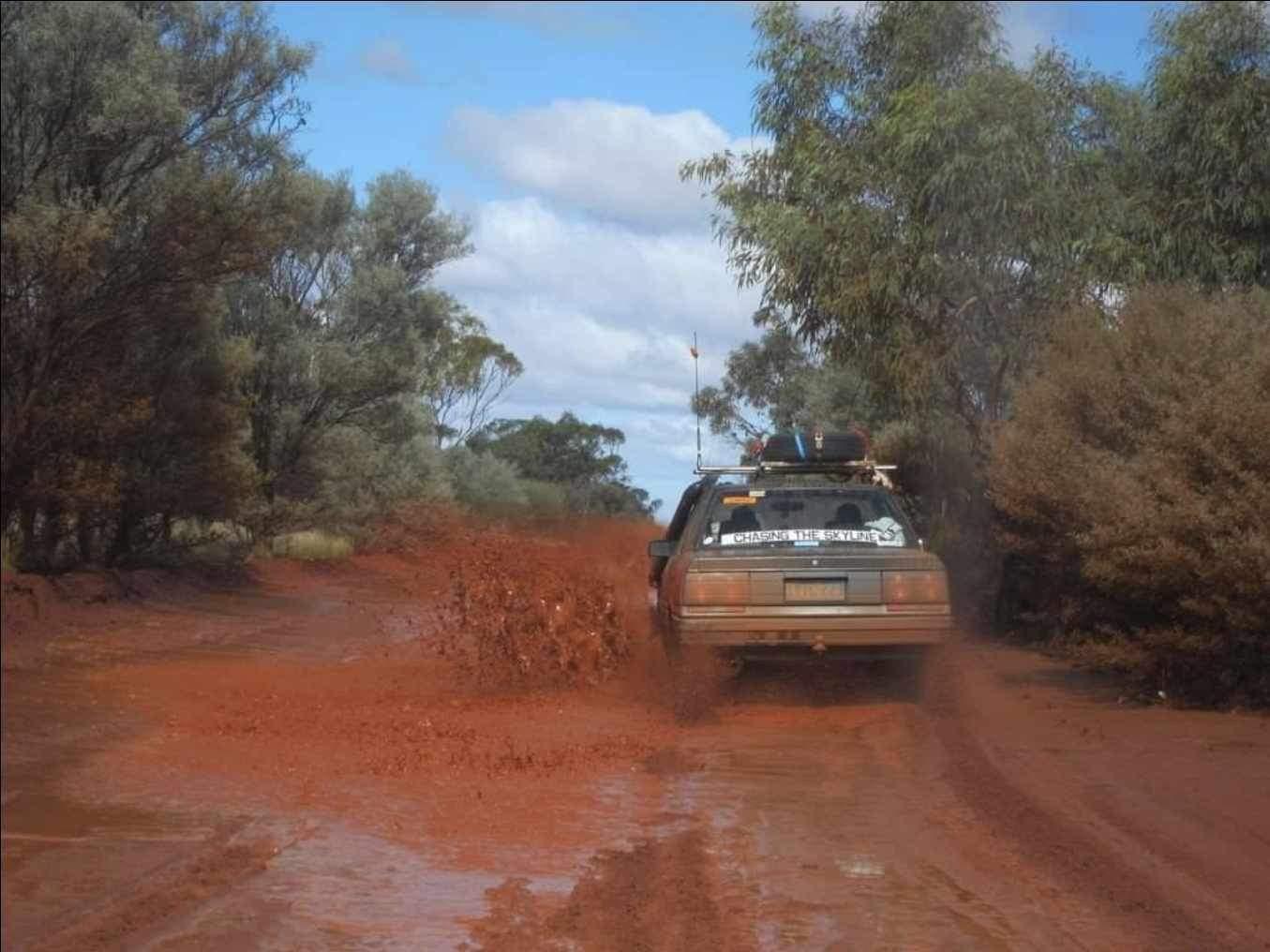 Day 7: Kameron Sykes
This is my 1987 s2 ti, I have owned it for 6 years and is in the build for a turbo sleeper with all the supporting components like upgraded fuel system with all braided fuel lines and AN fitting, Haltech ecu with new engine loom, upgraded ignition system.
The car is still all factory interior and hope to have the project done soon.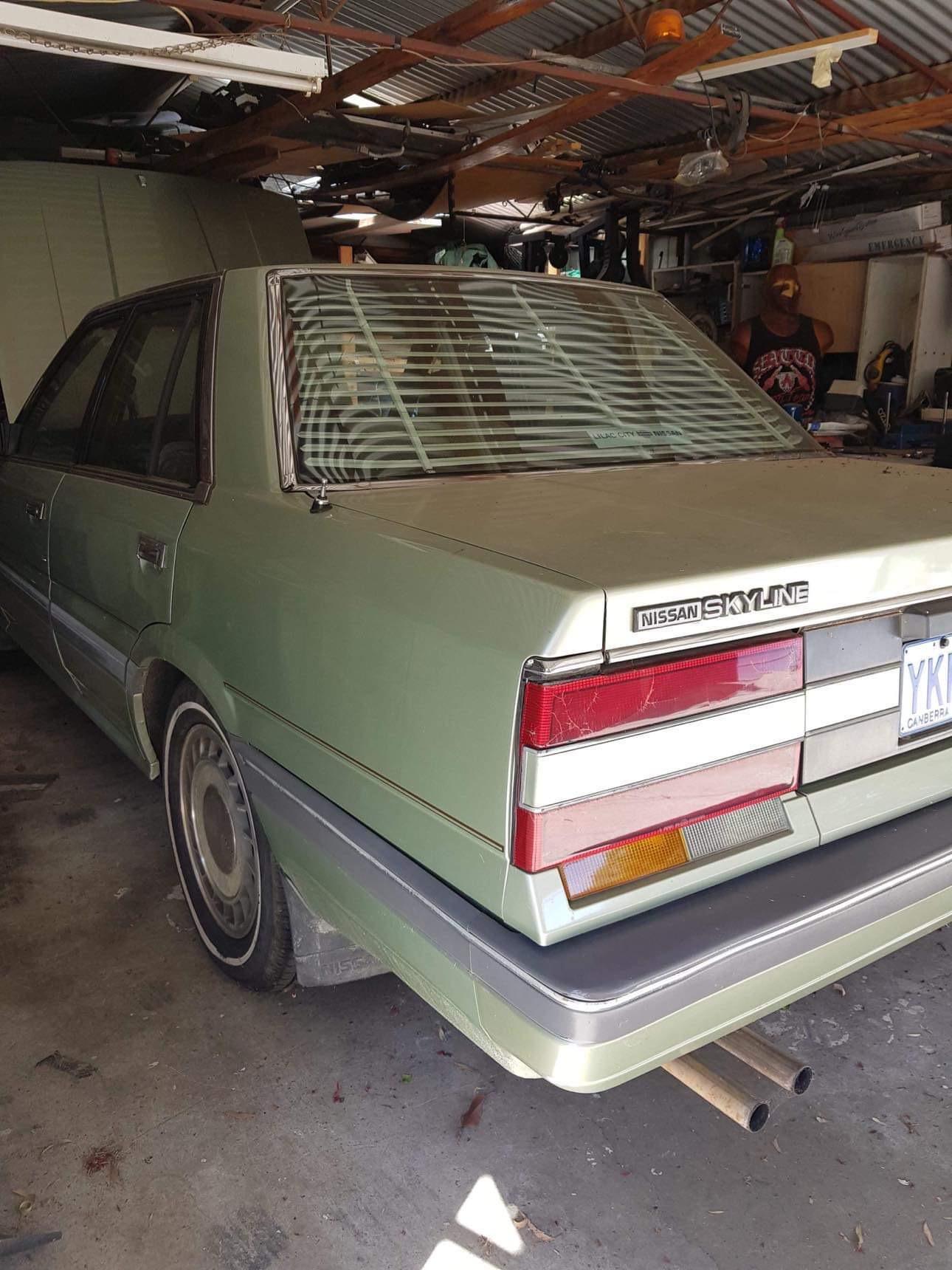 Day 6: Stevan Sykes
In 2018 I had my eyes on this S3 R31 that a fellow friend of mine brought from another friend down in Vic. The car originally was brought back to life after it spent some time living in a swamp in the early 2000s I believe. Majority of the modifications were carried out by its previous owner in Victoria which consists of HR31 front headlights and tail light swap, coilovers and suspension upgrades, CPC intake manifold, high mount turbo setup, built 4 speed auto and a basic haltech engine management system. Not to mention the 3 piece Simmons that fit it too a tee.
Once sold on to its previous owner, it went on to undergo some power improvements but was having issues with wiring and the ignition system on the dyno. Unfortunately after 1 too many skids the transmission kicked the bucket. This is when I received a phone call in 2019.... With little to no haggling with my friend to purchase the skyline it was loaded on the trailer with a boot full of busted transmission parts.
The car sat around for a few years till funds and parts were sourced to get it back on the road. It now has a RE4 swap out of a R34 Skyline, upgraded the haltech to a ps2000 with engine protection, E85 and tidied up the engine bay. 
There is a long list of future upgrades to make it a great Sunday cruiser.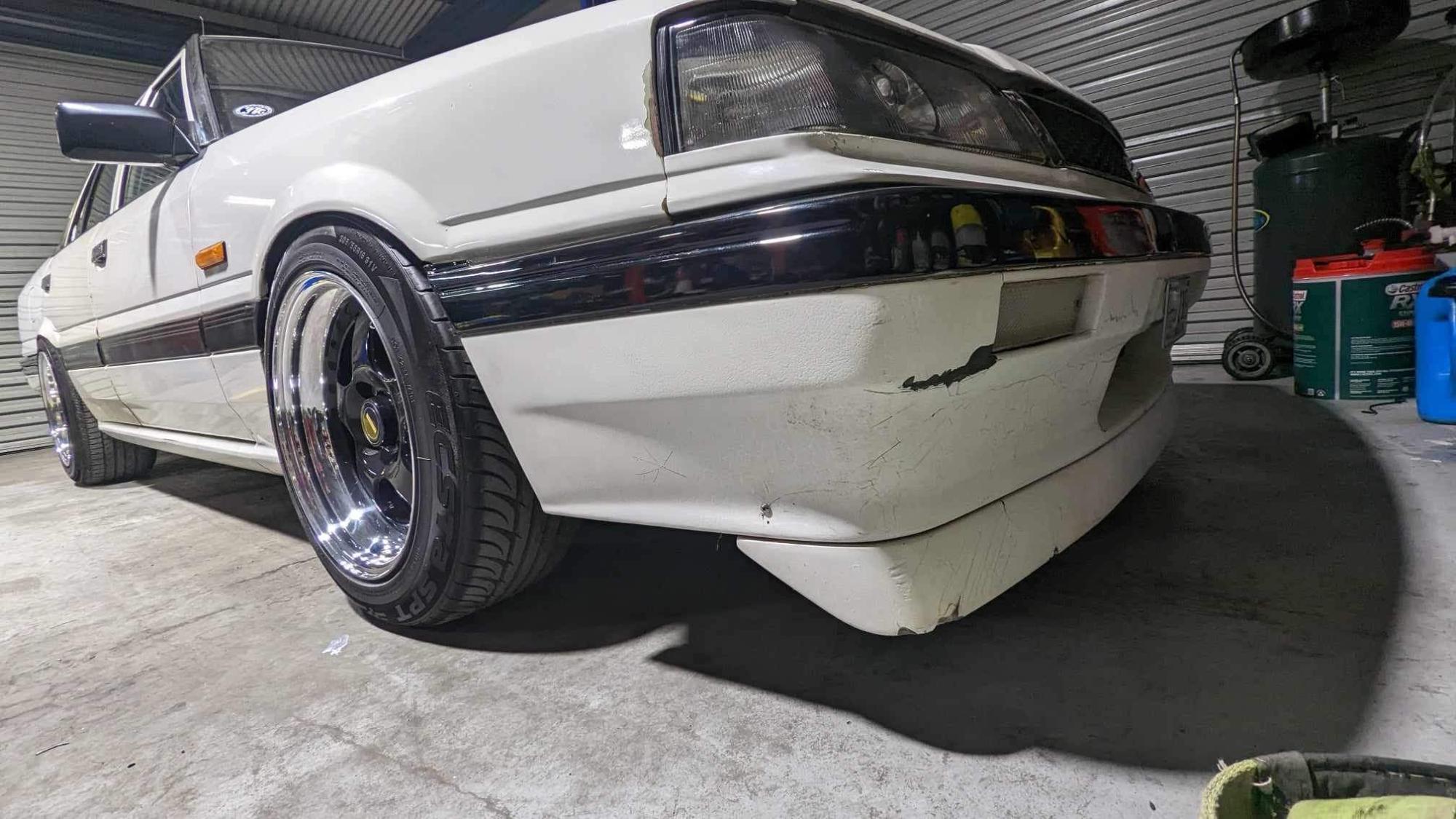 Day 5: James Westhorp
I purchased Franks in 2018 as a roller needing a bit of work from a legend in the R31 scene - Fatz!
It has a bit of history, imported in mid 2000s and gracing the pages of HPI magazine with a VH45 Twin turbo conversion, 32GTR brakes and R33 Gtst multilink conversion in 2008.
It now has a RB25DET to suit my goal of a great handling and braking car with moderate power, something fun for carving through mountain drives.
Future goals are just to keep improving setup and enjoy driving it as often as i can.
Day 4: Mondale Quizon
Purchased my first 1989 Nissan skyline silhouette in 2004, plan to get the car re-sprayed in 2007 then my car was stolen! Recovered the car at a property in Captains Flat during 2008.
I lost interest in the car for a few years, so it was parked up in the backyard. In 2009 until I met my good friend Stevan (Sykes Automotive) who helped me accumulate all the missing parts I needed to get the car back on the road! I honestly appreciate everything that Steve has done to get the car where it is today for me.
In 2013 I got the car re-sprayed finally 🤣 and the next target is to get work done to the motor (Oh, and engine bay sprayed 🤣).
Until then I love the car as it is and enjoy hitting the cruises.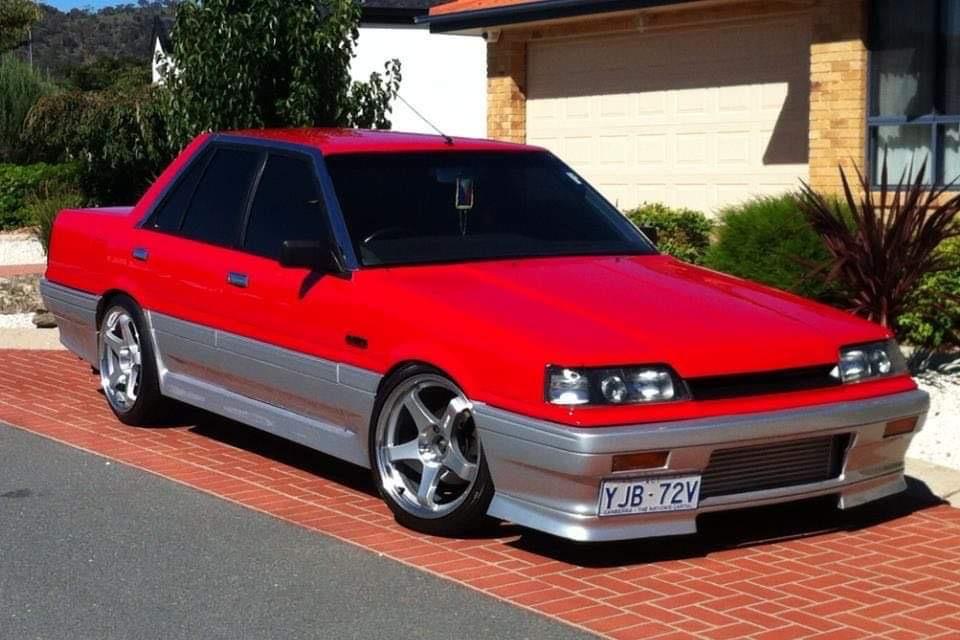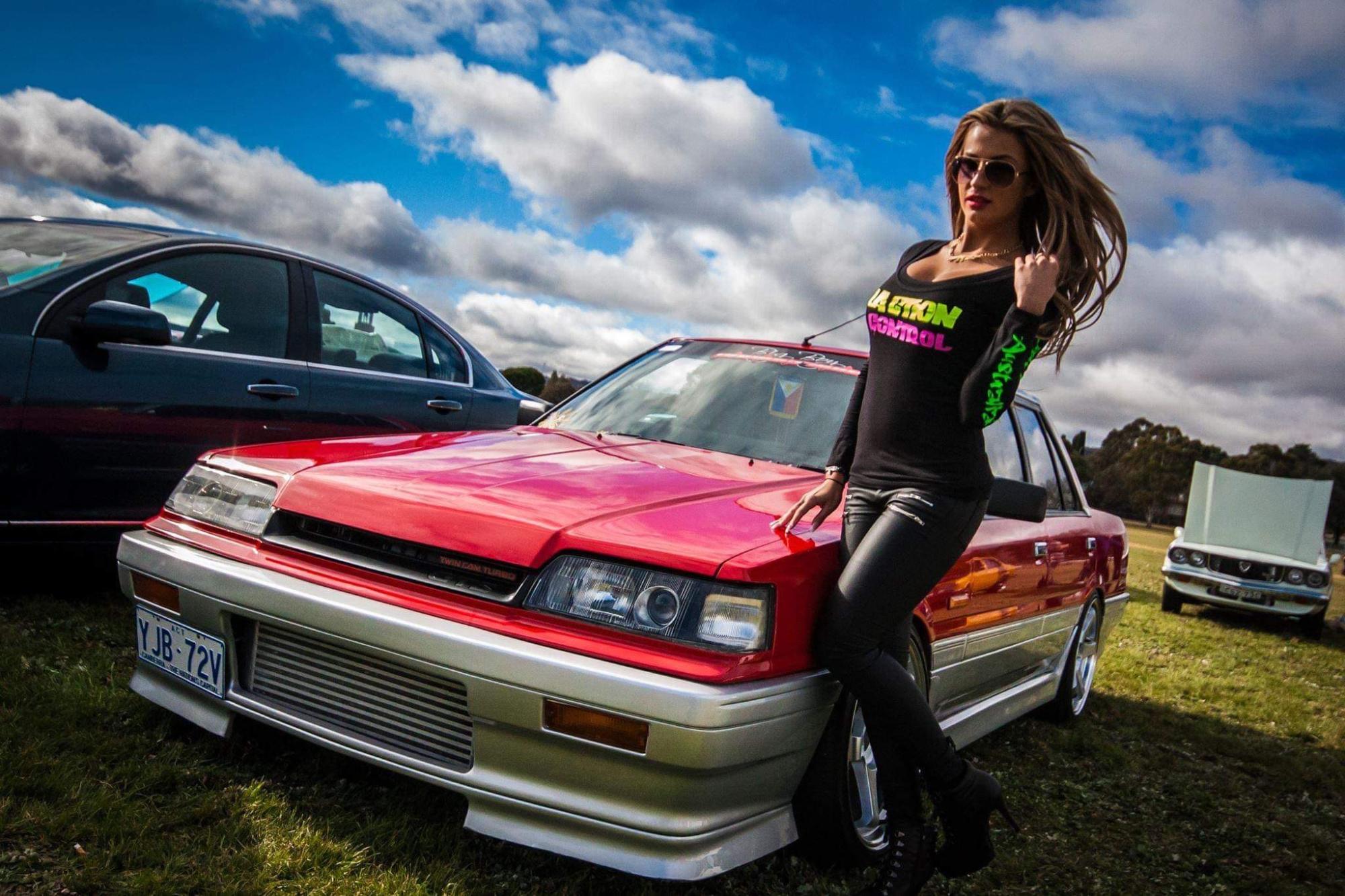 Day 3: James Overend
Some mates and i saved this R31 from being sent to a wrecker in 2014. It was promptly modified and manual swapped to go drifting. After only entering one drift event, 2015 saw the ban of drifting at wakefield. 
This is where the car needed to pivot if I was to keep it. I finally got the car to a point where it could be registered and ever since have continued upgrading and enjoying the car.
My short turm goal for the car is to crack a high 48s lap at SDMA Hillclimb. Long term I'd love to get it to a point where it looks and performs equally as well on a racetrack as it does at a car show.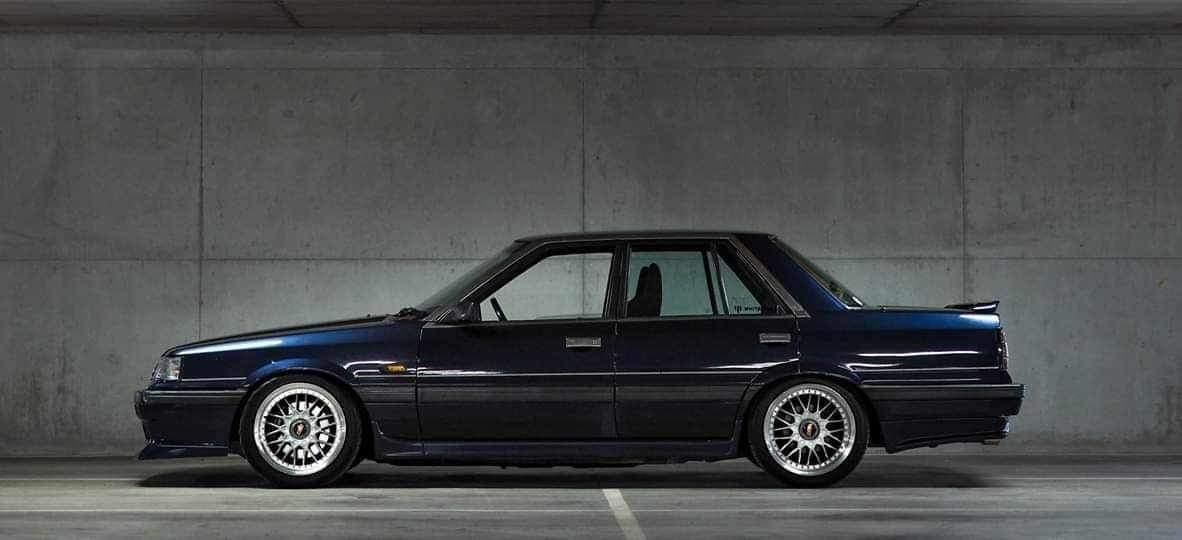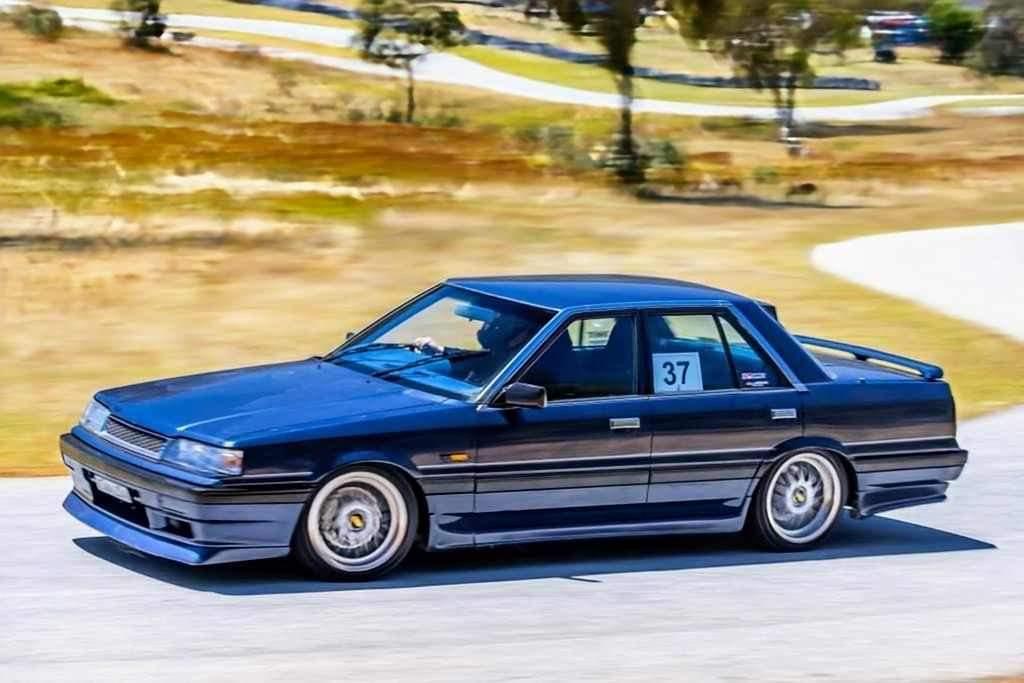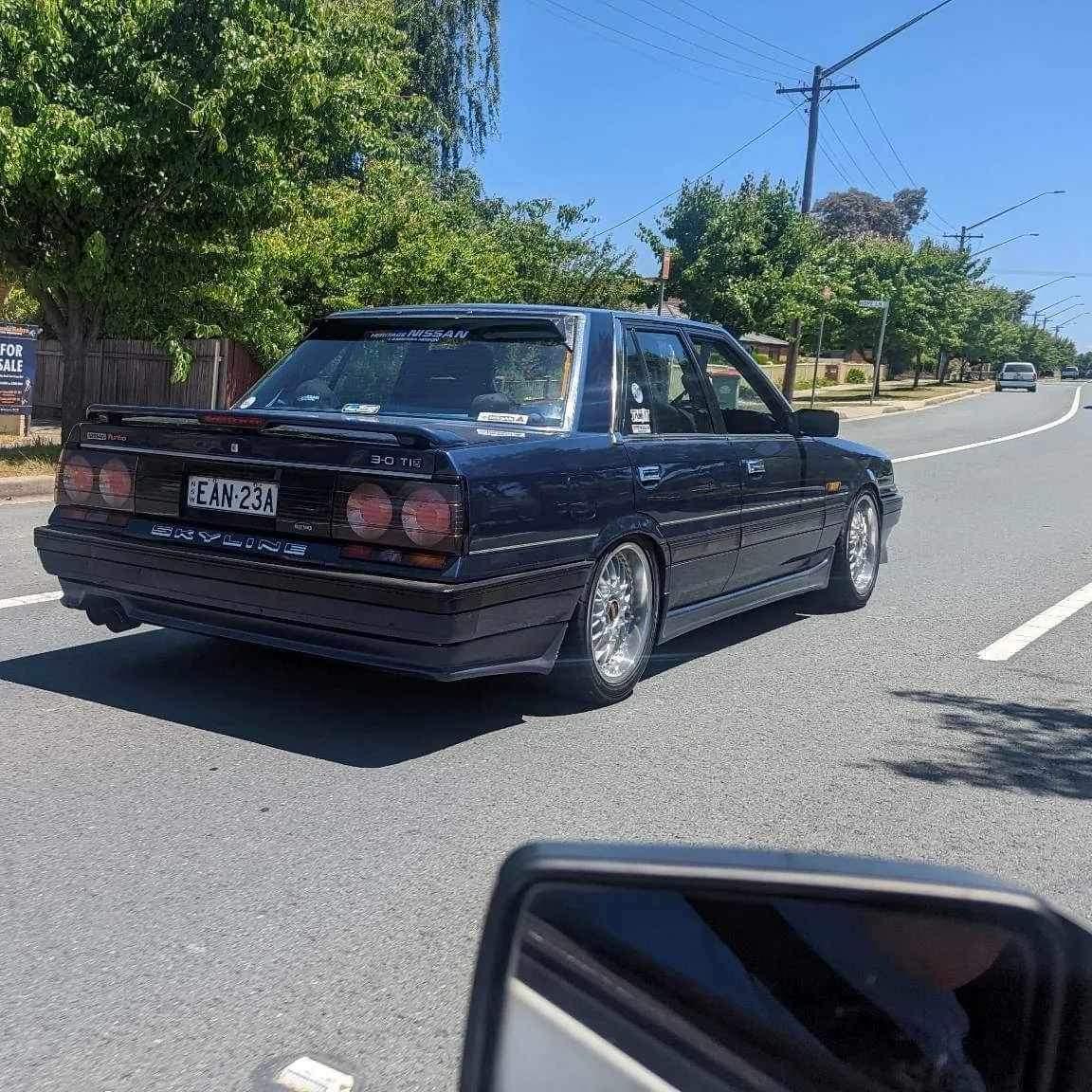 Day 2: Hayley Wilson-Butt
We purchased our 1987 R31 TI two years ago from the son of the original owner With 350,000+ km's but no rust and a straight body.
Since then we have undergone a full head rebuild, as it was running on 4 and we've chased down many electrical gremlins, from the boot light staying on and draining the battery… that was a rough one to find, to the indicator stalk turning the headlights light on when bumped. All and all it's been a fun journey as it's my first real project car, and definitely the comfiest car to drive in our little arsenal of projects.
Hopefully once it's running in a more stable state, we'll undergo some aesthetic changes such as coil overs, new wheels, and eventually a power upgrade by way of a full rebuild, turbo, and upgraded automatic transmission. Overall I'm trying to build a sweet VIP style cruiser that has enough power to keep up with traffic, have a little fun, and be reliable for another 30 years.
It's also one of two midnight glow 31's in Canberra that we're aware off, James' r31 which is an amazing track build and my still fully original turd haha
Heritage Nissan Canberra Region would like to introduce 31 Days of R31 as an online event to lead us into R31 Skyline Day that is flagged to be held at the end of July 2023. The cars here are all R31 Skyline Club and HNCR members rides over time and some will be available for a up close and in-person walk around this july. 
Day 1: Brendan Summerfield
Club Details - R31 Skyline Club (my_r31_baby) and HNCR (HNM052)
25/30 here we come!!!